Reflections and Advice:
2.) What was the best thing that happened to you in boarding school?
I feel I really grew as a person and had by the far the most complete high school experience one could hope for.
3.) What might you have done differently during your boarding school experience?
I think I would have focused less on getting into college my senior year. Although I'm glad now, at the time it made me truly miserable.
4.) What would you never want to change about your school?
I would never want to change the social dynamics and the relationships between students and faculty.
5.) What things could be improved about your school?
I would improve the food and the degree of diversity.
6.) Do you have any final words of wisdom for visiting or incoming students to your school?
SEND YOUR KIDS TO BOARDING SCHOOL !!!!!!! The new dorm rocks and they should go to North Field at sunset-- it's amazing.
Academics:
1.) What did you like best about your school's academics?
I loved my teachers. They all truly cared passionately about what they taught, and chose to be in the boarding school environment. I found that my teachers cared about the whole student, not merely the academic component. They wanted to be in the students' home environment, and often played the role of a surrogate parent. I found that my high school teachers inspired me both in the classroom and as a person.
2.) What did you like least about the academics in your school?
I sometimes felt overwhelmed by the time commitment involved in taking a number of the more challenging classes, but overall I was thrilled by the level expected of me. I found that for the most part,the majority of my classes were somewhat basic-- for example "Biology" or "Physics." Although that is quite typical for any high school experience, the variety I've found in college has been rather refreshing.
Athletics:
1.) What did you like best about your school's athletics?
I loved being on a team, the camaraderie of games, and the rush of adrenaline that came with victory. I've come to realize the true value of being on a team, in so much as you are responsible not only for yourself but for the happiness of others. Team sports challenged you to do your best, not solely for your own satisfacion but for the larger joy of bringing victory to your friends. Coaching-wise, a boarding school environment is very conducive to a strong relationship between coach and player.
2.) What did you like least about the athletics in your school?
Sometimes the time commitment was a bit much. We had to play a competitive sport for at least two of the three seasons a year, and for those who were not athletically-nclined that seemed quite unfair.
Art, Music, and Theatre:
1.) What did you like best about your school's art program?
I didn't really partake in it.
Extracurricular Opportunities:
1.) What did you like most about the extracurricular activities offered at your school?
For activities available on campus, it was nice to be able to be involved in so many various activities if you were so inclined. It was not obligatory, but available if you wanted it.
2.) What did you like least about the extracurricular activities offered at your school?
It was difficult to get involved in the community due to the significant amount of time that school and athletics took up, and that was quite frustrating.
Dorm Life:
1.) What was the best thing about dorm life in your school?
I loved being able to live with my best friends and I have definitely come to appreciate the value of having to learn to live with different people. I enjoyed the independence that I found when I left home.
2.) What did you like least about dorm life?
It was sometimes hard simply to never escape the "social scene." Sometimes you just wanted to go home and run away from it all.
Dining:
1.) What was the best thing about your dining arrangements?
My favorite thing was the frozen yogurt. We had a really wonderful cooking staff but they did suffer from a small budget.
2.) What did you like least about your dining arrangements?
Our food in general was just nasty. It was rarely fresh, and typically unappetizing with very little choice. For vegetarians especially, meals were simply not something to look forward to.
Social and Town Life:
1.) How welcome did you feel by the other students when you first arrived at the school
I felt very welcome. When I first got there nobody really knew anybody else and they certainly didn't know who they really were so it was a very encouraging environment.
2.) Describe the level of diversity and integration of students in your school:
There wasn't much diversity and even less integration. That is quite typical of a New England boarding school.
3.) Describe typical fun activities you did on a weekend:
EVERYTHING !!!!!!!!
4.) What was the town like?
I had Newport nearby, so I was very lucky. We had everything from Starbucks to the Gap so I have no complaints. We could do everything from go to the movies to go to the bars...
Daily Schedule:
Weekday
Weekend
Mastering the Boarding School Selection Process: A 5-Step Guide
Discover the ultimate 5-step guide to choosing the perfect boarding school for your child. Explore essential factors, such as academics, campus facilities, extracurricular activities, and more. Make an informed decision to provide your child with an enriching and transformative educational experience. Read now!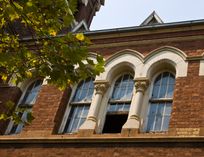 5 Founders and Their Boarding Schools
What prompts somebody to start a boarding school? The motives range from idealism to munificence right on through to capitalism. The common thread seems to be ample capital and a vision of what education can do.