Reflections and Advice:
1.) What do you think makes your school unique relative to other boarding schools?
During my junior and senior years, the school introduced "blended learning" to the curriculum, so that Monday, Wednesday, and Friday classes were not required. The students could then use this time to get homework or projects done, or pursue other activities. It was also a time students could use to get extra help in a subject; even though class wasn't required, the teachers would be in their classrooms for anyone who wanted to come in. Often, teachers had supplementary online material in the place of a typical Monday, Wednesday, or Friday class.The school also uses a Center of Excellence model, in which students can pursue a specific passion more fully than they might be able to at other schools. The Centers of Excellence currently are Hockey, Soccer, Figure Skating, Golf, Engineering, BioScience, Vocal Performance, Pre-Conservatory of Music, and The Major, a humanity-based program.
2.) What was the best thing that happened to you in boarding school?
I'm still close with many of my friends from school, and I've also gotten to know many more than an alum. The alumni network is extensive and makes it very easy to form meaningful connections, especially since so many continue to work at the school. I think the added closeness formed in a boarding environment lasts throughout college and longer.
3.) What might you have done differently during your boarding school experience?
I would've tried to be more outgoing and gone further in depth on some of my projects, particularly in the Honors Program. For kids attending the boarding school for the first time, I would say make sure to spend the first few weeks getting out of your dorm room and meeting new people to really get a grasp of what the school has to offer. Also, start good sleep habits early!
4.) What did you like most about your school?
My favorite part of the school was the friendships I made in the theater program.
5.) Do you have any final words of wisdom for visiting or incoming students to your school?
Make sure to go backstage in the auditorium to see signatures painted on the walls that date back to the 1800s, from everyone who participated in the theater program. Marlon Brando's signature is back there too!
Academics:
1.) Describe the academics at your school - what did you like most about it?
The blended model favors the self-motivated student. These classes teach the students how to manage their time effectively and leave a lot of room for students to pursue subjects further if they so choose. There are also quite a lot of options for a small boarding school, both in topic and in level of difficulty.
Athletics:
1.) Describe the athletics at your school - what did you like most about it?
The athletics are very high-caliber, and those who participate do so very seriously. The level of competition is quite high, particularly in the Center of Excellence sports. The facilities are also high quality.
Art, Music, and Theatre:
1.) Describe the arts program at your school - what did you like most about it?
I loved the theater program because while a lot of the school was separated into their Centers of Excellence; the theater brought a lot of students from different groups together, whether they were domestic or international, on a sports team or not, a boarding student or day student. Being in the school plays was also just a blast in general. The school is in the process of creating a new performing and visual arts center, which will be a great asset to the program.
Extracurricular Opportunities:
1.) Describe the extracurriculars offered at your school - what did you like most about it?
Each student was required to participate in one extracurricular activity per term, which I enjoyed as it kept me interacting with lots of students outside my immediate circle of friends. There is also a community service requirement in order to foster a sense of giving back to the community, whether in Faribault itself or in the students' hometowns.
Dorm Life:
1.) Describe the dorm life in your school - what did you like most about it?
I was a day student, but most of my friends lived on campus, so I was always welcome there. I liked the sense of community, and that at any given time there were so many people around. Most of the girls had to take a bus back and forth from the campus where they lived and the main campus which always took a slight adjustment.
Dining:
1.) Describe the dining arrangements at your school.
The food has definitely improved since I graduated; they've completely redone the dining hall and now there are quite a few more options than there used to be. There's a bigger focus on healthy options as well.
Social and Town Life:
1.) Describe the school's town and surrounding area.
The town is pretty small, so options can seem limited. But most of the students' favorite restaurants and activities are within walking distance so that helps.
2.) Describe the social life at your school - what did you like most about it?
I liked that if you were ever bored, you could walk to main campus and simply see who was around. Everyone would all hang out together and come up with something to do, whether it was walk downtown for dinner or play a campus-wide game of hide-and-seek. Otherwise, there were always weekend activities to sign up for, like trips to the movie theater or Mall of America in the Twin Cities.
I had initially looked into SSM because of the school's ability to combine their strong athletic programs with challenging academics courses. After my first visit to campus, I was in awe of the environment and. . .
The Shattuck-St. Mary's School experience was unique in that the class sizes and pedagogy allowed students to discover how we each learn best as individuals, and then are empowered to grow our individual academic skills. . .
The underclassmen 6th-9th graders lived at the middle school (very convenient for class) and we were required to do volunteer work throughout the summer. . .
Show more reviews (

4 reviews

)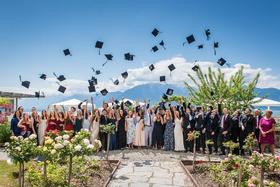 Nurturing Futures: A Journey through Boarding at Haut-Lac School in Switzerland
Nestled in the hills overlooking Lake Geneva in the French-speaking part of Switzerland lies an educational gem that embodies a unique blend of academic excellence, cultural richness and a profound sense of community. Founded over 30 years ago, Haut-Lac International Bilingual Day and Boarding School is now home to both 600 day students and a maximum of 30 boarders from around the world.
What To Wear at Your Job Interview
Navigating job interviews can be stressful, but knowing what to wear shouldn't be. Our comprehensive guide covers the essential dress code tips for men and women interviewing at boarding schools. Make your first impression count with style and professionalism.
Navigating the Modern Maze: Emerging Challenges for Boarding Schools
Explore the pressing challenges facing boarding schools, from marketing difficulties and rising insurance costs to facility maintenance and recruitment of competent trustees and teachers. This article delves into these complex issues and proposes innovative strategies to overcome them.