Reflections and Advice:
1.) What do you think makes your school unique relative to other boarding schools?
I a writing this as a parent. My son was not doing well in public school. He has consistently tested as a genius level IQ. he needed small classes functioning at high levels. He needed to learn how to learn. He needed attention that was lacking. Suffield gave him all of those things. It did not happen overnight. At first there were still some B's and in addition to the attention at school I worked with him reviewing his assignments. Time attention and caring. Finally, it started to pay off. Four years just ended with no B's at college. First in a class of 1300 students at one of the world's great universities. He is happy with a productive job and good friends. Suffield was a great help with great faculty a beautiful but isolated campus.
2.) What was the best thing that happened to you in boarding school?
Learning to learn is very important.As you see in the rankings, we are a most competitive entrance and highest SAT place.The kids at Columbia were not better trained or more disciplined.Developmentally it was worth the money.
3.) What might you have done differently during your boarding school experience?
As a day student in year one and then a boarder it probably would have been better to board the whole time.Both Mom and Dad showed up several times a week.There was great support.
4.) What did you like most about your school?
Overall a well run place the school was chill.that does not happen by accident the faculty virtually all lived there and were on call constantly.Charley rides them pretty hard.
5.) Do you have any final words of wisdom for visiting or incoming students to your school?
Say hello to everyone.People are friendly, and they don't bite.
Academics:
1.) Describe the academics at your school - what did you like most about it?
There is a feeling of high standards without undue pressure. Sports and activities were mandatory, so the narrow hide in the room and study kids are limited. The tiger teams (intramural) fill in the blanks for the athletically challenged.The well-rounded requirement limits the feeling that it was a pressured academic experience.
Athletics:
1.) Describe the athletics at your school - what did you like most about it?
Athletics are pretty big time, especially football. Christian Wilkins (NFL 1st round draft pick was there) This year the quarterback went to the Miami hurricanes and the wide out went to Penn State.
Art, Music, and Theatre:
1.) Describe the arts program at your school - what did you like most about it?
Other than attending shows, Arts were not the focus of my interests.
Extracurricular Opportunities:
1.) Describe the extracurriculars offered at your school - what did you like most about it?
There is pretty much every sport other than crew and ice hockey.The school is relatively small, and it is coed so there are enough spots for everyone to get to play something.
Dorm Life:
1.) Describe the dorm life in your school - what did you like most about it?
Dorns have mandatory 2 hour quiet time/ study time.As an RA there were every half-hour walk about to make sure books were open.
Dining:
1.) Describe the dining arrangements at your school.
The food was good and had decent variety I guess for $63,000 a year the food should be good!
Social and Town Life:
1.) Describe the school's town and surrounding area.
Almost no town life.There was a weekly bus to the Enfield mall.The school is in an isolated community.
2.) Describe the social life at your school - what did you like most about it?
Again the place is relatively friendly small enough so everyone know each other.The international community is not from just one place.Yes there are Chinese and Koreans but also South Americans and Europeans.
One of the best things about suffield is the teachers. I had never been to a school where they care so much. I got really close with my advisor and they helped me a great. . .
Suffield Academy is truly an exceptional place. I graduated in May of 2016 on a beautiful sunny day. As tradition stands, I rang the bell four times at graduation marking the amount of years I. . .
It's centralized location to a (sudo) urban city- Hartford while at the same time maintaining the quintessential large open landscape that boarding schools are known for. . .
Show more reviews (

9 reviews

)
Mastering the Boarding School Selection Process: A 5-Step Guide
Discover the ultimate 5-step guide to choosing the perfect boarding school for your child. Explore essential factors, such as academics, campus facilities, extracurricular activities, and more. Make an informed decision to provide your child with an enriching and transformative educational experience. Read now!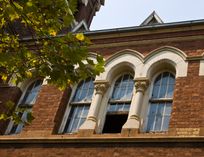 5 Founders and Their Boarding Schools
What prompts somebody to start a boarding school? The motives range from idealism to munificence right on through to capitalism. The common thread seems to be ample capital and a vision of what education can do.