Reflections and Advice:
1.) What do you think makes your school unique relative to other boarding schools?
What I like the most was the balance between Sports and academics. They never compromised our Academics for Sports. They would encourage having a study buddy. With my study buddy, we used to wake up at 4am and study. That's because of the impact our teachers had on us. They made us understand that a lot has been put or is going towards paying for our school.The second thing I liked was the welcome we got as international students. I came from a disadvantaged family but I never felt any different from the other kids because that unbreakable bond among us was encouraged from the start.
2.) What was the best thing that happened to you in boarding school?
The best thing that happened to me was sitting down and having coffee with our Principal.
3.) What might you have done differently during your boarding school experience?
I would have tried out as many sports as possible. The school will offer you many things that will be new to you. Don't fear trying them out. I met my girlfriend In the Arts club. I quit after 2 weeks but to this day; we are still tight.
4.) What did you like most about your school?
I like the vibrancy of the school. It was young and well maintained. The kids were welcoming, and the teachers went and over the call of duty.
5.) Do you have any final words of wisdom for visiting or incoming students to your school?
Don't be scared. Explore every corner of that school. Be grateful but unapologetic. Check out the Mall and be sure to attend every Basketball Match. Trust me.
Academics:
1.) Describe the academics at your school - what did you like most about it?
So Academies where the main priority as I said. Then the learner to teacher ratio was 7:1. So for every 7 learners, there was one teacher. That helped us a lot because we could achieve so much more. You could phone a teacher in the afternoon, and they would be willing to assist.
Athletics:
1.) Describe the athletics at your school - what did you like most about it?
The athletics program is the best. They have State of the arts centers where their young athletes are wheeled into being the best in America. The School partners with Spires Academy, which is even better for athletes I
Art, Music, and Theatre:
1.) Describe the arts program at your school - what did you like most about it?
I loved the Choral side. Our choir was amazing. One of the best in our State. Imagine singing in front of the whole School at assembly?? That's the privilege they got. The privilege they worked hard for. They would attend after-school classes to work on their talents and their hardworking shone through their performances
Extracurricular Opportunities:
1.) Describe the extracurriculars offered at your school - what did you like most about it?
They had the Computer club, the Peer leader and the service clubThere was the Animation club too. The Fishing club and the outdoor adventure club.There was my favourite, the Arts club and the Digital Arts. Then they did Skiing.
Dorm Life:
1.) Describe the dorm life in your school - what did you like most about it?
Dorn life was the best. That's when we got to really jell as a family. We had our own kitchen so Food theft was impossible. All the dorms were shared amongst 2 people and they had en suite bathrooms.
Dining:
1.) Describe the dining arrangements at your school.
The eating time was the best. We are 3 times. Breakfast in the morning. Lunch at school and then Supper at about 18h00. What I liked the most was the Chef. He cooked proper and healthy food. This is why most athletes were so successful. You could also seat him down and talk about diet plans. He was a qualified Dietitian.
Social and Town Life:
1.) Describe the school's town and surrounding area.
I loved the diversity more that anything. It is so safe. It felt like a privilege walking down the street and a privilege it was. The landscape was well maintained. My favourite thou was the Mall. It was beautiful but honestly; the shops were expensive. But I was warned that America is expensive, and it really was.
2.) Describe the social life at your school - what did you like most about it?
School was indeed Cool. There wasn't many of us so it was like we're a family you know. There was always someone who can lift up your mood. I would go to the Movies with my friends, and we really enjoyed that. Others guys were focused on Sports and that was cool too.
Mastering the Boarding School Selection Process: A 5-Step Guide
Discover the ultimate 5-step guide to choosing the perfect boarding school for your child. Explore essential factors, such as academics, campus facilities, extracurricular activities, and more. Make an informed decision to provide your child with an enriching and transformative educational experience. Read now!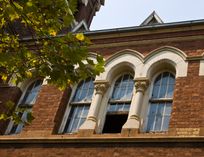 5 Founders and Their Boarding Schools
What prompts somebody to start a boarding school? The motives range from idealism to munificence right on through to capitalism. The common thread seems to be ample capital and a vision of what education can do.