Reflections and Advice:
1.) What do you think makes your school unique relative to other boarding schools?
It's hard to compare what exactly made Kent unique, but if I could pinpoint one thing, it would probably be the sense of community. I was friendly with almost everyone and I can't imagine many high school experiences that allow you to know such a broad array of people.
2.) What was the best thing that happened to you in boarding school?
I would not pinpoint one thing that "happened" but would say the whole experience was transformative. Kent opened my eyes to such a wide array of opportunities for me to grow as a person. After leaving Kent, and I think this is just a part of growing up, it was funny to look back on things that I cared so much about at the moment that really did not matter much.
3.) What might you have done differently during your boarding school experience?
Don't be afraid to make mistakes and be yourself. You're right- people might not like you, but they might not like you if you aren't whole-heartedly yourself as well. You're not supposed to get everything right on the first try.
4.) What did you like most about your school?
The opportunities and doors it opened up. I also didn't know how valuable the community would continue to be to me after graduating.
5.) Do you have any final words of wisdom for visiting or incoming students to your school?
Ask about campus traditions, if you have a time to hike up to numeral rock.
Academics:
1.) Describe the academics at your school - what did you like most about it?
We had small class sizes, and classes focused on collaborative discussion and debate. I never really tracked current events until we started tying them into class discussions at Kent. The availability teachers had for extra help outside of class and that we could go see them for help during conference blocks also really helped me when I struggled with new concepts, etc.
Athletics:
1.) Describe the athletics at your school - what did you like most about it?
We were required to play at least 2 sports/ year and I think that was been great. Sports keep you engaged in your community and let you build bonds that you might not have otherwise. I came into Kent as a "basketball player" but became so many other things along the way. When I got to Kent, I did not really have a "spring sport" but was convinced to try rowing. That opened the door to the junior national team, which then led me to collegiate rowing. The opportunity to try rowing at Kent quite literally changed my life.
Art, Music, and Theatre:
1.) Describe the arts program at your school - what did you like most about it?
I didn't have much/ any involvement in Music. Theatre. We were required to take both Music and Art Survey. This music requirement I found horrible.Every year they also put on the Winter One Acts, which were my favorite performance to attend without a doubt. They were also really cool because they allowed people who played a different winter sport/ activity to still participate.
Extracurricular Opportunities:
1.) Describe the extracurriculars offered at your school - what did you like most about it?
The quantity. Having grown up in a small town, there were so many opportunities to try new things and learn from really knowledgeable teachers- whether it be how to lay out a yearbook or how to plan a bake sale for a great nonprofit. There was a plethora of things to get involved in, so it was really just about finding the opportunity you wanted to be a part of.
Dorm Life:
1.) Describe the dorm life in your school - what did you like most about it?
Dorm life was good. I know some boarding schools have smaller dorms, but Kent's are quite large. This leads you to meet a lot of people in the dorm. You build bonds for better or worse with your dorm faculty as well.
Dining:
1.) Describe the dining arrangements at your school.
We had a massive dining hall and there was a good selection of food, always a salad bar and sandwich station. Cereal and bagels were available all day.
Social and Town Life:
1.) Describe the school's town and surrounding area.
Kent is unique in that it's in a remote area but still just across the bridge from the small town. It makes it easy to have a team dinner, grab brunch with your friends after chapel and to have a little extra freedom in general.
2.) Describe the social life at your school - what did you like most about it?
Blue Key (the social event planning aspect of the school) was student-led so ideas for it came directly from students, whether we were having a bonfire, a powder puff game, or a school dance.
The freedom Kent offers its students is truly unparalleled, and with freedom comes responsibility: Students quickly learn how to look after themselves and one another. If you're looking for a place to learn independence, and. . .
Kent's emphasis on individualized education is one of the elements that sets it apart from other boarding schools. The Studies Office allows students to choose classes that interest them the most, when they have completed. . .
Campus is beautiful and landscape around it. It was very relaxing walking around campus and looking at the beautiful mountain algo and Housatonic river.Teachers and advisors were available 24/7 and always happy to give advice. . .
Show more reviews (

25 reviews

)
Mastering the Boarding School Selection Process: A 5-Step Guide
Discover the ultimate 5-step guide to choosing the perfect boarding school for your child. Explore essential factors, such as academics, campus facilities, extracurricular activities, and more. Make an informed decision to provide your child with an enriching and transformative educational experience. Read now!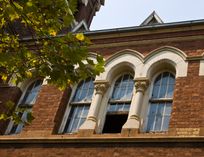 5 Founders and Their Boarding Schools
What prompts somebody to start a boarding school? The motives range from idealism to munificence right on through to capitalism. The common thread seems to be ample capital and a vision of what education can do.