Reflections and Advice:
1.) What do you think makes your school unique relative to other boarding schools?
Hebron's location is a great setting to enjoy the outdoors. There are a variety of outdoor activities to take part in. The campus also has its own hiking trails, and in the fall and winter there are after-school activities dedicated to exploring and learning more about the surrounding area.The student body represents cultures from all over the world, and the students all interact with each other. Most of the students, no matter where they come from, have a diverse group of friends.
2.) What was the best thing that happened to you in boarding school?
I feel like the best thing that happened to me was that I expanded my interests while at Hebron. Before coming to Hebron, I was mostly stuck between sports and school. At Hebron, I had more free time to enjoy new activities and became aware of other things that I may enjoy doing.
3.) What might you have done differently during your boarding school experience?
My advice for kids who decide to go to Hebron is to make sure that you try everything. I feel like you would be wasting your time going to Hebron if you are just going to stay indoors and only hang out with a small group of people. Many of the activities that you get to be a part of at Hebron are ones that you may not get to do anywhere else. Also, don't be afraid to be yourself and introduce yourself to others because you are going to get to know everybody at some point. The students and faculty are very accepting of everyone.
4.) What did you like most about your school?
I liked the overall environment of the school the most. I formed many close bonds with my classmates and teachers. The small setting allowed for us to have a strong sense of community. That helped make my transition to Hebron as a senior much easier than it would have been at another school. The environment also made class enjoyable since it was made discussions in class much more lively because everyone was ready to speak up.
5.) Do you have any final words of wisdom for visiting or incoming students to your school?
One thing I would encourage is that if you aren't doing a sport in the fall, then you should try outdoor education. That will help acquaint you with the local area and may even provide you with a new hobby. As far as a snack recommendation, I would recommend the fried rice in the student union.
Academics:
1.) Describe the academics at your school - what did you like most about it?
Hebron has many course offerings for all levels. I was able to take a full AP course load. The class sizes were small–none of my classes had more than 15 students. We have a two-hour study hall every night in our dorms. The study hall made it easy to keep up with assignments and ensure that I had time during other parts of the day for other activities. The teachers were helpful and available during and after the school day. I really appreciated their willingness to listen to students and adjust the workload if students felt that it was overwhelming.
Athletics:
1.) Describe the athletics at your school - what did you like most about it?
Hebron's offers a variety of athletics. Since students are expected to partake in an after school activity every season (two of which must be athletic), most sports have multiple teams so that anyone can join. The varsity teams tend to be more serious, whereas the JV and third teams usually consist of kids who just want to have fun. There are some sports like hockey, for example, that the students and coaches take quite seriously whereas other sports are a lot more laid back. For boys' in basketball, we play at the Class C level in NEPSAC and we were pretty competitive within our league. We would have practice for about two hours a day on weekdays. We only practiced during the season, unlike other schools that may require fall workouts. The facilities are pretty good overall. Students can still play sports that do not fall under an after school activity, such as badminton or squash, during their free time. The fitness center is also open to students during the day and over the weekends.
Art, Music, and Theatre:
1.) Describe the arts program at your school - what did you like most about it?
I was not involved much in the fine arts program, but I did take part in the play as multiple sports teams had mandatory roles in the play. It was a fun experience. The school seems to be working to improve its Fine Art program, and there are many talented artists and musicians on campus. The school has a music Monday for students who want to display their musical talents to the student body. There are some students within the arts department though who felt as though the school could do more to promote and recognize the arts.
Extracurricular Opportunities:
1.) Describe the extracurriculars offered at your school - what did you like most about it?
The school definitely offers a variety of extracurricular activities. There are many clubs already established on campus, and students have the ability to create their own. Clubs span a variety of interests from art to STEM to social justice issues. Each season, students are expected to participate in an after school sport or another activity. I enjoyed being part of the outdoor education fall activity where we went on many expeditions to local trails and peaks. The hikes were even more enjoyable during the fall because of the trees changing color. The majority of students on campus take part in multiple extracurricular activities.
Dorm Life:
1.) Describe the dorm life in your school - what did you like most about it?
There are three dorms on campus–one girl and two boys' dorms. The dining hall is located in Sturtevant Dorm, which is the boy's dorm for juniors and seniors. The school's only dining hall is located on the ground floor of Sturtevant. The dining hall is open for breakfast, lunch and dinner during the weekdays and for brunch and dinner on the weekends. If someone is looking for a snack, they usually go to the student union located behind the girl's dorm. On weekends, the union is usually open until around 10:30. The Union is a common hangout spot for a lot of kids.I chose to have a randomly assigned roommate, which worked out fine for me. The school does allow students who may know someone coming in to choose a specific roommate. Though it is rare that people decide to switch rooms, it can happen. The students must request a room change and usually the school will try to see if they can work out any problems, but, worst-case scenario, students can be switched.
Dining:
1.) Describe the dining arrangements at your school.
During school days, the dining hall is open for breakfast from 7-8:30 AM, lunch from 11:30-1:30 PM, a dinner from 5:30-6:30 PM. On weekends, there is brunch from 10-12PM and dinner from 5:30-6:30PM. Students can sit where they want in the cafeteria. There is a sandwich and salad bar open, just in case students don't like the food being served that day. Some students may even decide to eat at the Student Union where there are also quite a few options like burgers, fried rice, and other snacks. The boarding students have a sit down dinner a couple time a month on Thursdays where students are expected to wear formal attire. The dining hall increased their options throughout the year in response to student's requests.
Social and Town Life:
1.) Describe the school's town and surrounding area.
The town of Hebron and the surrounding area are mostly rural, but there are natural activities that students can enjoy. On the weekends, there are trips to bigger towns and cities like Lewiston or Portland if you are looking for a fun outing with friends. I personally enjoyed taking advantage of the experiences that are more exclusive to the area, such as the outdoor experiences.
2.) Describe the social life at your school - what did you like most about it?
The school itself is not very big and most of the students stay on campus, so we get to know each other well. Many of the faculty live on campus as well. This helps add to the overall community feeling that we have on campus.
Hebron's location is a great setting to enjoy the outdoors. There are a variety of outdoor activities to take part in. The campus also has its own hiking trails, and in the fall and winter. . .
Hebron encouraged us to serve the surrounding community with designated community service days throughout the school year, as well as celebrating the diversity of our school by themed dinners and cultural events. . .
Hebron was so transformative for me. The main things that I can accredit this to are the the population of international students on campus and the community among women. In the upper school (the high. . .
Show more reviews (

6 reviews

)
Mastering the Boarding School Selection Process: A 5-Step Guide
Discover the ultimate 5-step guide to choosing the perfect boarding school for your child. Explore essential factors, such as academics, campus facilities, extracurricular activities, and more. Make an informed decision to provide your child with an enriching and transformative educational experience. Read now!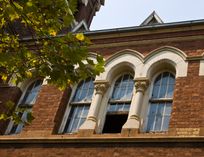 5 Founders and Their Boarding Schools
What prompts somebody to start a boarding school? The motives range from idealism to munificence right on through to capitalism. The common thread seems to be ample capital and a vision of what education can do.