Reflections and Advice:
1.) What do you think makes your school unique relative to other boarding schools?
There are so many things that set SSM apart from any other school. SSM is, to my knowledge, one of very few boarding schools in the west, and the boarding schools that are in the west do not have the tradition of excellence, reputation, or recognition that SSM has. SSM is also very well rounded, which is by far its best quality. There is an incredible performing arts program, the elite singing and strings groups are better than what can be found in many colleges and universities. There is a hockey program that is nationally ranked and known throughout the world especially in Canada where all the teams frequently travel. But most of all are the academics, with small class sizes, great tools (such as the laptops that are issued to every student with wireless Internet), and AP's offered in every subject I feel you will be offered a superior education.
2.) What was the best thing that happened to you in boarding school?
The best thing that happened to me at SSM is that I tried to many different things, I was in photography, a play, orchestra and choir, all things that I definitely would not have been in if I were at a regular public school or even a private school. Mostly I am grateful that I took choir, I had a great director and a really good time. I learned how to use my voice and I also learned that I have a pretty good one too, I plan on continuing singing in college and hope that when people go to SSM they try as many things as possible because they offer so so much.
3.) What might you have done differently during your boarding school experience?
Again I would tell people to just try new things, there are great opportunities for people to do things that they would never be given anywhere else. So do things that are different and things that seem not like you because you don't know for sure that you can't do something until you give it a good shot. At SSM everyone who wants to do something can do it, you can go there and try singing, dancing, or any sport that is offered and see of you like if or who knows you might be really good at something and discover a gift of yours there. Another thing that I wish I had done is I wish that I would have taken advantage of my teacher's knowledge more, they are always willing to give extra-help but you need to ask for it first.
4.) What did you like most about your school?
The part about SSM that I like most is the community, it's always a place that I will feel at home at. When you talk to the alumni you will realize that they still love the school and stay connected with it even thought they may live many miles away. I grew so much at SSM I can't even believe it, and because of my superior education I really feel that I will succeed in college and I definitely feel better prepared for college than my peers at public schools.
5.) Do you have any final words of wisdom for visiting or incoming students to your school?
When you visit SSM, which I would encourage anyone to do, you will quickly notice that it is a beautiful campus in any season and that there are so many special places. I would honestly have to say that the library is my favorite spot on campus, I have spent many hours in there studding for finals and just relaxing reading one of the many magazines that they subscribe to each month
Academics:
1.) Describe the academics at your school - what did you like most about it?
At SSM you are in an environment where all the students are interested in learning and studding the material, resulting in a much more competitive environment. The classes are less than half the size of most public school classes with students who are willing to learn making it extremely difficult to "blend in" with the rest of the class, this forces every student to be well prepared for every class every day. SSM also offers an enormous amount of classes, five foreign languages with four or five levels each, the highest levels of math (I'm not sure what the highest math course is) and teachers that are always open for extra-help. Teachers are available before, during and after school and most teachers are more than willing to help during the weekends, all you have to do is ask.
Athletics:
1.) Describe the athletics at your school - what did you like most about it?
Like I said SSM's hockey program is nationally ranked and recognized. The hockey is great for both girls and boys, both have been to nationals every year for the past four or five years, and is also an excellent place for people who are not great players but want to develop their skills. There is basketball which is great, soccer, track, tennis, an excellent golf team, volleyball, baseball, softball, and fencing, (most everything is offered to both boys and girls). I really think the sports at SSM are excellent.
Art, Music, and Theatre:
1.) Describe the arts program at your school - what did you like most about it?
There is so much opportunity for people in the arts, both for people who have been in it their entire lives and for people who are interested in getting involved. There is a jazz singing group called Elements of Sound that is fantastic, and a strings group called Counterpoints that is amazing also. The directors of all the groups are great, I really mean that, every director at SSM is the best. You can also come to SSM and never had sung a note before and become a wonderful singer by the time you leave, and it happens to lots of students there. Same for strings, band, dance, theater, and visual arts.
Extracurricular Opportunities:
1.) Describe the extracurriculars offered at your school - what did you like most about it?
The extra-curricular activities at SSM are good but not everyone gets involved because you are so busy with everything else. I was in the environmental club that we didn't meet all to often and we didn't achieve to much, but it was still good to be in and i learned a lot from the staff director and got to know her through that. I was also in the Gold Key club, which toured potential families, that I really enjoyed and learned lots from that too but I only gave a hand full of tours each year because of my availability.
Dorm Life:
1.) Describe the dorm life in your school - what did you like most about it?
I was a day student, which means that I lived at home not in the dorm.
Dining:
1.) Describe the dining arrangements at your school.
The food at SSM is actually pretty good most of the time, but it gets really old after a while. Even though I was a day student I ate breakfast and lunch at school and often I ate dinner at school because I needed to stay later for hockey, studding, extra extra-help. Often times meals were really good but once and a while there were meals that were not so good. There is always a salad bar and a sandwich bar that is the same every lunch and dinner and everyday at lunch you can have pizza, so there is always something good to eat but it just gets repetitive.
Social and Town Life:
1.) Describe the school's town and surrounding area.
SSM is located in Faribault, MN, a blue color town of about 20,000 people but it is about 45 minutes from the twin cities of Minneapolis and St. Paul, and Northfield, which is a cool college town, is only 15 minutes from campus. Faribault does have everything that you need for school or otherwise, there is a movie theater, coffee shops and several banks including a Wells Fargo, which is within walking distance from campus. Downtown is also within walking distance of campus, whish has small shops and restaurants but downtown Faribault is nothing to get excited about.
2.) Describe the social life at your school - what did you like most about it?
At SSM you really get to know everyone in the school and you become friends with your teachers and coaches. It is really a close nit community, and you will know everyone in the school by name even the people in the kitchen and janitorial staff. The friendships that are formed at SSM are life lasting, and you will meet people from all corners of the world and will learn about their culture as they live in ours. The friendships that are formed at SSM is one of the best parts of the school, and is definitely very unique how you become friends with people who are so different than yourself you are while at SSM.
Daily Schedule:
Weekday
7:30 AM
arive at school, eat breackfast get ready for class
5:30 PM
dinner/hang out for a while
7:15 PM
study for a long time
Weekend
10:00 AM
get up depending on schedual sports etc.
11:00 AM
a little studding(i hated studding on weekends but sometimes there was not a choice)
4:00 PM
chill out with friends possibly do somthing with school/ hockey games a lot of the time in winter
I had initially looked into SSM because of the school's ability to combine their strong athletic programs with challenging academics courses. After my first visit to campus, I was in awe of the environment and. . .
The Shattuck-St. Mary's School experience was unique in that the class sizes and pedagogy allowed students to discover how we each learn best as individuals, and then are empowered to grow our individual academic skills. . .
The underclassmen 6th-9th graders lived at the middle school (very convenient for class) and we were required to do volunteer work throughout the summer. . .
Show more reviews (

4 reviews

)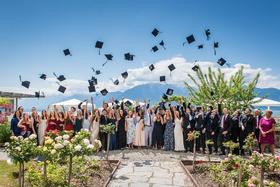 Nurturing Futures: A Journey through Boarding at Haut-Lac School in Switzerland
Nestled in the hills overlooking Lake Geneva in the French-speaking part of Switzerland lies an educational gem that embodies a unique blend of academic excellence, cultural richness and a profound sense of community. Founded over 30 years ago, Haut-Lac International Bilingual Day and Boarding School is now home to both 600 day students and a maximum of 30 boarders from around the world.
What To Wear at Your Job Interview
Navigating job interviews can be stressful, but knowing what to wear shouldn't be. Our comprehensive guide covers the essential dress code tips for men and women interviewing at boarding schools. Make your first impression count with style and professionalism.
Navigating the Modern Maze: Emerging Challenges for Boarding Schools
Explore the pressing challenges facing boarding schools, from marketing difficulties and rising insurance costs to facility maintenance and recruitment of competent trustees and teachers. This article delves into these complex issues and proposes innovative strategies to overcome them.