Reflections and Advice:
1.) What do you think makes your school unique relative to other boarding schools?
The relationship between students and staff is truly what makes LCS different amongst any other boarding school. Between the regular activities that happen during the weekends to encourage student engagement and the ability to live and work with your peers is life changing. You can feel the energy and connections people have to each other the moment you step onto campus.
2.) What was the best thing that happened to you in boarding school?
I can easily say I would not be half the person I am today without Lakefield. Not only did I achieve lifelong friendships with my student peers, but also with the staff. There is no other school you can go to where people are so passionate about your success and happiness. If you ask people this sort of question, you will notice that everyone has a relatively same response; there is no other place like it.
3.) What might you have done differently during your boarding school experience?
Share my appreciation more. I know a lot of my peers also feel this way, you never really know how great the experience was until it's gone. My advice for kids going to boarding school is to keep an open mind and take in every moment.
4.) What did you like most about your school?
That I enjoyed it so much I still want it to be a part of my life forever so I can continue to give back in the same way LCS has been able to do for me for so many years.
5.) Do you have any final words of wisdom for visiting or incoming students to your school?
There is lots of new exciting things coming to Lakefield so trust the process and continue to enjoy every moment. Given the world is remote, stay connected as much as possible.
Academics:
1.) Describe the academics at your school - what did you like most about it?
I like the balance between academics being challenging, but also not the make or break to your success at LCS. There is a good balance between challenging courses that enable you to perform excellence but with other programs such as outdoor education where your classroom is literally outside. The teachers are passionate about teaching and student achievement as they will offer extra help even if it may interfere with their own time.
Athletics:
1.) Describe the athletics at your school - what did you like most about it?
There is such a variety of athletic options. I was able to try different sports while also excelling at sports I have practiced before. The coaches are also your teachers, heads of house, nursing staff, which I think adds to the community feeling more. They are very competitive at certain times, especially if you are competing in individual sports with the potential of going to OFSAA and competing with other schools in the region, not just private schools.
Art, Music, and Theatre:
1.) Describe the arts program at your school - what did you like most about it?
This was an aspect of school life I have been engaged with the most consistently. I participated in many dance showcases as well as plays. Even though it is not necessarily considered a "team" sport, it certainly felt that way. LCS is very focused on making individuals great at a bunch of things and not just amazing at one thing. Therefore, there are opportunities for those who have never been on a stage before, as well as people who have grown up in the spotlight. The dance studio is one of my favourite places on campus. When they added the addition to the gym, it was clearly well thought out in terms of having the natural light and just a special space for dancers.
Extracurricular Opportunities:
1.) Describe the extracurriculars offered at your school - what did you like most about it?
I love the variety of clubs and extra-curriculars that Lakefield has to offer. This is largely due to the excitement that staff have to sharing their passions with the students. The maple syrup tapping is one of my favourites that is often described as being "so Lakefield" because the trees are located on campus as well as the syrup that is produced at the waterfront. Staff are also very understanding of the level of engagement students have with every aspect of school life, and are adaptable to other commitments students may have that might take away from their academics (such as missing a test, etc).
Dorm Life:
1.) Describe the dorm life in your school - what did you like most about it?
Although I was not a boarding student, I spent a lot of time on campus and in the boarding houses during open house (which allowed students to enter other dormitories at a specific supervised time). As a day student, ensuring there is a solid relationship between boarders and day students allows there to be an even greater community engagement level and not as "groupy"
Dining:
1.) Describe the dining arrangements at your school.
They have changed a few times over the course of my four years as a student. I thought the food options were very good, healthy, and accommodating to dietary needs. The salad bar and sandwich bars were a highlight in case I felt like having something light or did not feel like having the hot meal that day. When people would have to leave for sports or off campus commitments, students would be given meal money, which is supplemented from the missed dining hall meal, so that students can purchase food on their route home to make up for it. They also offer meal times earlier or later for the specific teams to ensure they are being fed before their departure.
Social and Town Life:
1.) Describe the school's town and surrounding area.
The Town of Wakefield itself is very small. There are many food stops, convenience stores, fast food options, and scenery for students to enjoy away from the school. The residents of Lakefield are also quite friendly and are aware of the students that will be engaged in their community. The city of Peterborough is about a 20-30 minute drive from the school, there are bus services provided by the school for movie nights to go to the theatres and eat at nicer restaurants for students to be able to have more independence, which is very important.
2.) Describe the social life at your school - what did you like most about it?
I really liked how kind everyone is to each other. I really lucked out with my grade as there weren't many groupies or cliques that left people out. This was more so really prevalent in my senior years because it was important for us all to work together to put on events for the entire student body. Almost all of these people I am still in touch with to this day. The events that LCS puts on as alumni is also really important in continuing that engagement beyond graduation.
There are many things that are especial at Lakefield College School (LCS), but the one thing that really separates it from other schools is the outdoors. Lakefield has lots of outdoor spaces and it utilizes. . .
Lakefield College School stands out in a way that compares to no other. One aspect that makes it unique is it's method of assessing a student's knowledge in English classes. In my final year, the. . .
The relationship between students and staff is truly what makes LCS different amongst any other boarding school. Between the regular activities that happen during the weekends to encourage student engagement and the ability to live. . .
Show more reviews (

1 review

)
Mastering the Boarding School Selection Process: A 5-Step Guide
Discover the ultimate 5-step guide to choosing the perfect boarding school for your child. Explore essential factors, such as academics, campus facilities, extracurricular activities, and more. Make an informed decision to provide your child with an enriching and transformative educational experience. Read now!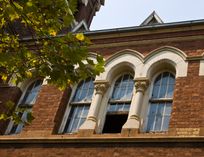 5 Founders and Their Boarding Schools
What prompts somebody to start a boarding school? The motives range from idealism to munificence right on through to capitalism. The common thread seems to be ample capital and a vision of what education can do.