Reflections and Advice:
1.) What do you think makes your school unique relative to other boarding schools?
The leadership program at Suffield Academy is a major focus along with the core curriculum. This helped me to become a major leader on campus by participating in many different programs from sports to student government and even being involved in residential life. This also allowed me to develop the tools to I will need to lead in a business atmosphere in my future life. The leadership program, tied in with the strong technological program, allows for students to have an edge comparatively when adjusting to the college lifestyle. The strong push from faculty for students to pursue leadership opportunities allows for a wide variety of avenues to be pursued and obtained. Suffield allowed me to explore many interests and develop my personality and interest range fully.
2.) What was the best thing that happened to you in boarding school?
The ability to change from a meek and intimidated freshmen to a senior, who was confidant, able to make the right decision and defend them, and capable to lead others. I have become a confident individual with an amazing ability to lead others thanks to Suffield Academy. Suffield allowed me to pursue my interests while opening doors to new experiences that I think other schools would not be able to provide.
3.) What might you have done differently during your boarding school experience?
My advice would be to take chances, try as many things as possible even if you feel you are not that interested in the activity because taking chances is the reason to go to a boarding school.
4.) What did you like most about your school?
The opportunities provided to me at my school were amazing the ability to discover my interests academically and socially. Suffield provided me with an amazing experience I will never forget and strong recommend to others.
5.) Do you have any final words of wisdom for visiting or incoming students to your school?
I would strongly promote living in Fuller Dorm, it is an older building with unique dimensions, and the students of it always come together to form unique friendships that last a lifetime, and unique memories.
Academics:
1.) Describe the academics at your school - what did you like most about it?
The academics at my school were very rigorous despite a small student body. There were many A.P. classes in a multitude of subjects. Also, I was a product of the English Honors program for four years. This has helped me greatly in my ability to write college term papers. The professors are very supportive and provide a lot of extra attention to students especially since about ninety percent of them live on campus.
Athletics:
1.) Describe the athletics at your school - what did you like most about it?
The athletics program at Suffield Academy is very competitive with knowledgeable coaches who have all participated in their sports at a higher level. This helped me to prepare to play at the next level. The facilities are decent, but in recent years some upgrades have improved the facilities.
Art, Music, and Theatre:
1.) Describe the arts program at your school - what did you like most about it?
The Visual Arts, Music, and Theatre programs are the weakest point of Suffield Academy. There is limited participation, but many students are just taking the classes for the credit needed for graduation. However, there are some students who do pursue the arts at the highest level.
Extracurricular Opportunities:
1.) Describe the extracurriculars offered at your school - what did you like most about it?
A great extracurricular activity is SOLO: Suffield Outdoor Leadership Opportuniies. This includes the indoor climbing wall and outdoor trips to Zuni, New Mexico to help the Indians. There are cultural trips to Europe to study Art and Drama.
Dorm Life:
1.) Describe the dorm life in your school - what did you like most about it?
I became a proctor which helped me become a leader. I also enjoyed the numerous opportunities to interact with the students from numerous countries and cultures. I enjoyed the weekend trips to experience the best New England offers.
Dining:
1.) Describe the dining arrangements at your school.
There is assigned seating everyday at lunch, and boarders are required to check in at dinner, but not necessarily stay for the meal. The food is ok, and the kitchen staff has made more efforts to provide many choices.
Social and Town Life:
1.) Describe the school's town and surrounding area.
The town is small, but growing. There are several restaurants in the area mainly Italian Food, but there are a few Asian restaurants. These are all within walking distance and some deliver. There is also a supermarket within walking distance. A mall and movie theaters are a five-minute drive away.
2.) Describe the social life at your school - what did you like most about it?
Every weekend offers diverse entertainment opportunities. We have had bands, dances, vetriloquists and speakers on current events. We also have trips to shopping malls and movies. A popular destination is Northampton, Massachuesetts.
Daily Schedule:
Weekday
Weekend
6:00 PM
Free Time, Dances, Movie Trips, Social Events
One of the best things about suffield is the teachers. I had never been to a school where they care so much. I got really close with my advisor and they helped me a great. . .
Suffield Academy is truly an exceptional place. I graduated in May of 2016 on a beautiful sunny day. As tradition stands, I rang the bell four times at graduation marking the amount of years I. . .
It's centralized location to a (sudo) urban city- Hartford while at the same time maintaining the quintessential large open landscape that boarding schools are known for. . .
Show more reviews (

9 reviews

)
Mastering the Boarding School Selection Process: A 5-Step Guide
Discover the ultimate 5-step guide to choosing the perfect boarding school for your child. Explore essential factors, such as academics, campus facilities, extracurricular activities, and more. Make an informed decision to provide your child with an enriching and transformative educational experience. Read now!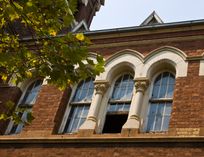 5 Founders and Their Boarding Schools
What prompts somebody to start a boarding school? The motives range from idealism to munificence right on through to capitalism. The common thread seems to be ample capital and a vision of what education can do.