Reflections and Advice:
1.) What do you think makes your school unique relative to other boarding schools?
Our campus and community are small which creates many opportunities to be fully familiar with almost every aspect of life at SKS. The arts (theatre, visual, film) and sports were heavily emphasized and had very supportive educators. There were several interesting opportunities such as formal dinner nights, inviting guest speakers or hosting fun events in the theatre, and even some networking events with the school alumni. Since classes are small, they can sometimes be tailored to the students (especially in the arts, unsure about others).
2.) What was the best thing that happened to you in boarding school?
I think the best thing was getting to know a few friends and teachers who have supported me and stayed connected to the present day, as well as really developing my artistic skills with the art department's help. The boarding school life also helped me become more independent and attentive to the surrounding world through weekend events.
3.) What might you have done differently during your boarding school experience?
I probably should have tried more things during SKS, because there were a lot of random opportunities that I would be too busy to try now in college. My advice is to take advantage of the events and opportunities boarding schools will literally bring to your plate, because you might not come by those opportunities or even think to do them in the future. For example, there was a small spring break trip to the Galapagos, a place I would never have thought of visiting until I was probably middle aged and looking for a vacation (though the Galapagos would probably be underwater by then...) Boarding school just makes it so easy to do new things.
4.) What did you like most about your school?
I really liked SKS' small environment and community, which makes everything more personal and tailored to what students want and need. As an artist, my bias would be that the art department was extremely helpful with learning how art school works. I hadn't even known that I could pursue animation as a real career until my teacher showed me how vast the opportunities for artists are (in the US, at least). And in tough times, the teachers always cared about us, so we always had adults we could rely on as we grew up away from family.
5.) Do you have any final words of wisdom for visiting or incoming students to your school?
For students coming to SKS, really take advantage of the small community and resources around you to make your voice heard, and try your best to build great friendships, because you'll be living very closely with everyone. Think about the activities the school provides and what you want to get out of them, because when you're in college or working, you might not get to do those things so easily anymore.
Academics:
1.) Describe the academics at your school - what did you like most about it?
The teachers I had were easy to follow and understand, and prepared me for the AP exams I took. They were also able to be more personal with our smaller class and ensure everyone was on the same page. I believe we had AP level classes for all subjects (English, Science, History, Math, Art) so students could easily choose to prepare for their exams. The workload was reasonable if one didn't choose too many classes.
Athletics:
1.) Describe the athletics at your school - what did you like most about it?
I got to focus more on my art portfolio than the mandatory sports after school (which is great that they provide this option for those who really need it). There was soccer, lacrosse, basketball, volleyball, tennis, cross country, ultimate frisbee, and probably more added after my graduation. The sports were quite competitive with other schools, with frequent at-home/away games. Our teams did really well overall and the school spirit was strong, even among our Color Teams (students get sorted into White/Yellow/Blue team at the start of the year).
Art, Music, and Theatre:
1.) Describe the arts program at your school - what did you like most about it?
The visual arts program is very robust and flexible despite it being a small department. Students can develop their skills in fine arts (figure drawing, painting, sculpting), digital art (photo editing, graphic design), fashion (both design and fabrication), film (from script to shooting to video editing). The school computers have Adobe suite available to use, and there's the right equipment for all the art fields I mentioned prior. The art teachers also go out of their way to make the art facilities as high quality as possible.A very helpful part of the visual arts program is how the teacher would bring us to portfolio day in NYC and find art college representatives to teach us about the application process. This really helped me prepare for college and prepare my portfolio.The theatre program is also impressive, showing a production every year (both plays and musicals turn out great, but my favorite are the musicals). Auditions are open to all and students can volunteer to work as the crew. The theatre teacher was very professional and taught how theatre work operates in all aspects (design, script, acting, tech) as well as the crucial safety measures for the crew.The music program was smaller when I was there, but there were teachers who taught music theory, piano, guitar, and choir/singing.The dance program is also a bit small but very successful, producing performances each semester.One of the best things about SKS' arts programs was the arts weekend and the Fall and Spring performances. Students get to showcase all of their visual artwork in one of the school buildings (with an award ceremony, too). Actors, dancers, musicians/singers perform in the theatre for the whole school in a well-arranged production at the end of the semester. Not only is this inspiring for everyone, it also prepares young artists/performers for their careers.
Extracurricular Opportunities:
1.) Describe the extracurriculars offered at your school - what did you like most about it?
Most of the after school extracurricular opportunities were the mandatory athletics or something in the arts. On weekends, we had trips for shopping, visiting local areas or going to NYC, and too many other types to name. These weekend trips are flexible and open to suggestions, so students often get to host something or ask the school to arrange a specific trip.Volunteering is also mandatory, with a specific amount of hours required. These hours are mostly gained through volunteering in school events (helping at sports games, theatre work, tutoring, etc.) or through the weekend trips, which can involve any variety of volunteer work in the local area. Again, like the other weekend trips, volunteering is pretty flexible and open to suggestions.
Dorm Life:
1.) Describe the dorm life in your school - what did you like most about it?
The dorms are not very notable but might be different now from when I was there. Usually, the dorm parent was also a teacher or coach, so it was nice to be able to ask them for help sometimes. There are the standard rules like curfew time and house rules to respect the dorm space. From my experience, nothing big happened (which is a good thing) so the rules were fine. There was a microwave and fridge, but it's not super relevant because hot food was served every day at the dining hall, which is easy to access.As students become more senior, they get more privileges and priority for room and roommate selection.
Dining:
1.) Describe the dining arrangements at your school.
The dining hall is quite accessible to everyone even with the dorms spread out. Its hours are most flexible on weekends, and on weekdays there's not much leniency but it didn't matter because our schedules were very fixed anyway. (Students away on games would get to eat outside with their team if they miss mealtime, I think).There is only assigned seating during formal dinners, which we had on some Thursdays. During those, students from one year would learn to serve food to everyone else, and there would be some kind of event that night.The food was diverse enough, sometimes there would be special food every few weeks or celebration-themed food. The most fun part of the food was on Global Appreciation Day, where different cultures are represented with food. The menu is also open to suggestion and pretty friendly to those with dietary restrictions.
Social and Town Life:
1.) Describe the school's town and surrounding area.
Coming from a city-raised person, there wasn't really a town life because SKS is on a mountain, but the beautiful nature really makes up for the lack of civilization. Weekend trips usually compensate for the lack of town presence because the closest towns didn't have much culture going on. Black forest mountain is a great environment for hiking and taking in nature. There is a forest conservatory close by which is interesting, and we get a few opportunities to visit/volunteer.
2.) Describe the social life at your school - what did you like most about it?
There are a lot of opportunities to socialize because there's just a lot you can have on your schedule. Classes, extracurricular activities, sports, etc. The main student space is the student center, which some people like to gather in. It has a few amenities like an eating area (and a cool noodle bar), some games, a TV area. I think most of the social life was in all the other activities, though. The student center was mostly there for people on campus during the weekends or downtime between activities.
Daily Schedule:
Weekday
4:00 PM
After school activity/college portfolio
5:00 PM
After school activity/college portfolio
7:00 PM
Study hall + writing center tutoring
Weekend
Two most unique things about SKS when I went there were the size and diversity of the student body. The largest number of students the school had while I went there was only 190 students. . .
Our campus and community are small which creates many opportunities to be fully familiar with almost every aspect of life at SKS. The arts (theatre, visual, film) and sports were heavily emphasized and had very. . .
Storm King is a wonderful second home with a wide assortment of clubs and activities. The school gets students out of their comfort zones with opportunities to get involved with new sports or arts. . .
Show more reviews (

2 reviews

)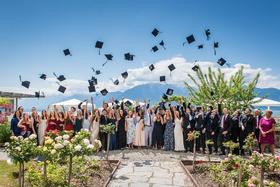 Nurturing Futures: A Journey through Boarding at Haut-Lac School in Switzerland
Nestled in the hills overlooking Lake Geneva in the French-speaking part of Switzerland lies an educational gem that embodies a unique blend of academic excellence, cultural richness and a profound sense of community. Founded over 30 years ago, Haut-Lac International Bilingual Day and Boarding School is now home to both 600 day students and a maximum of 30 boarders from around the world.
Navigating the Modern Maze: Emerging Challenges for Boarding Schools
Explore the pressing challenges facing boarding schools, from marketing difficulties and rising insurance costs to facility maintenance and recruitment of competent trustees and teachers. This article delves into these complex issues and proposes innovative strategies to overcome them.
What To Wear at Your Job Interview
Navigating job interviews can be stressful, but knowing what to wear shouldn't be. Our comprehensive guide covers the essential dress code tips for men and women interviewing at boarding schools. Make your first impression count with style and professionalism.