Reflections and Advice:
1.) What do you think makes your school unique relative to other boarding schools?
The campus is not just beautiful by its own merit, but also happens to be placed almost in the middle of the forest. Black Rock Forest is 2 minutes away from your dorm room an the whole mountain is available almost at any time. This also adds to a sense of privacy, exclusiveness and serenity. The Hudson River view from the canteen is sold to you as the thing to see and although it is a great view, often it is easy to miss the rest of the forest around you. The contact with the teachers and peers is also hard to describe. On the one hand, there is a distance that the culture seems to demand, however on the other hand, the immediate cirumcstances make it so that the teachers may become mentor figures since you get to see them outside of classes often being your coaches or approaching you during meals. Moreover, the place being so small with only up to 200 people creates a community (for better or worse), that nowadays many are in need of for a variety of reasons (like distributed cognition), and it is something easy to realize you miss/need once you leave the mountain. A community in the middle of the forest, next to a mountain and a majestic river with access to four seasons almost sounds like a refuge from the world. Nonetheless, the community will lift you up as much as it may bring you down when in an unhealthy state. This demands responsibility of you as a resident. For many this responsibility presents a burdensome weight to carry, but in the right hands allows for meaning in one's life.
2.) What was the best thing that happened to you in boarding school?
I came from a school about 10 times bigger. My classrooms would have 40 people versus a maximum of 20 when I was in The Storm King School. It is a massive difference. You feel (and are) more seen, so you get to deal with the responsibility that carries. That changes you. Also being surrounded with people that care and enough free time and the forest my force some introspection, which I think is both painful but meaningful. Also don't shy away from the novelty of the people and the place, there is so much to learn.
3.) What might you have done differently during your boarding school experience?
Be very open. Try to notice the perspective and ideas yo ucarry around with you, including judgements and expectations. Realize that you have a lot more power over your situation and what will be your experience than in other places. There is a lot to learn and to be confronted by within yourself and outside since you will be exposed to many different cultures, activities and opportunities. I wish I was more mindful of how my actions and the actions of others changed the atmosphere of the place. Also to realize that I had much more agency over my situation than I acted upon. So realize you can change things and that you are all but alone in there.
4.) What did you like most about your school?
The place, the people I got to mee and the fact that you have a forest next to you.
5.) Do you have any final words of wisdom for visiting or incoming students to your school?
Lose yourself in the forest often, no headphones, just go explore the place. Make use of the resources available (teachers, peers) as much as you can, there is so much to learn and do if you look for it, so dont waste your time, it goes by quick.
Academics:
1.) Describe the academics at your school - what did you like most about it?
It is hard to be fair to these questions today. I have been outside the school for 5 years now and as far as I've been able to notice the school has changed significantly. These changes are often exponential since it is a non-profit organization and many of the students come and go every year, therefore, changing the little community that exists, thus changing the academics to a certain extent. This being said, take this with a grain of salt. The academics are demanding time wise and you may have plenty of freedom to create your own schedule. This means challenge yourself or have an easy and interesting year if you want to. The teachers during my time there (and I trust most of the new ones are too) are engaged, interested, caring, and well prepared. They are not just great educators but great people too. A lot of what you might learn may come from things they say during class time that don't fit the academic category. Nonetheless, they are often open and willing to help you out outside class time allowing you to really make the most of your academic experience/achievement. Don't underestimate the amount of free time you can use to learn more from your teachers, they have a lot to teach you if you let them. Not many schools provide you with a n opportunity to talk about interesting class-subjects with your teachers outside class time, make the most of it! The work-load is mostly up to you. Don't underestimate reading-heavy classes, they might take up more time than you wish. Same thing goes with AP classes, they will challenge you if you don't organize yourself well since much of your time will be scheduled for you. The depth of the material sometimes seemed lacking, but this does not have to be a disadvantage, remember, you probably will have more time with your teachers if you decide so, there is a lot to do before college too, so use your time wisely, a lot of responsibility is on you regardless of what you are told. Therefore, if you want to work more, learn more and use more of the opportunities available you will have to seek them. Yes, more effort will be demanded then but if any place rewards effort it is this one (in different ways).
Athletics:
1.) Describe the athletics at your school - what did you like most about it?
The athletics program is not the best. Although the shcool has access to people from all over the world, and your team will be made up of a variety of players with different experiences, this might be more frustrating than fun if you are competitive. You probably will play against higher level teams (I can only speak for soccer seriously, but friends in other sports shared the opinion), but often loose since their team has trained together and played the sport for several years while your team might be half gone one year or the other. The experience is unique and fun. Only if you are competitive this might be an issue for you. The leagues the team plays in have been won the last few years as far as I'm aware and the school seems to remain dominant in most sports. However, again, for higher level players you probably won't be able to compete at the level that maybe you were used to. Look for opportunities outside school, the school is willing to support you especially if you show up and bring results. You will have to participate in at least one sport or club per season, so you will probably try something new. Be open, your experience will likely be better that way and you'll get an opportunity to learn more that way. The facilities are mostly great! Enjoy the campus, its small but awesome.
Art, Music, and Theatre:
1.) Describe the arts program at your school - what did you like most about it?
I have no personal experience in any art department sadly. It was new for me to have so much access to art teachers/activities etc. This seemed to really resonate with many people and they mostly enjoyed what was offered. The inspiration you will be able to get from both the campus and the surroundigns of it are limitless (and novel every season!), plus, New York City is a train away, endless opportunity for art-enthusiasts. The facilities and possibilities seem good enough to explore yourself and whatever art you are into. The school appreciates art more than most others I've been. Feel free to contact the teachers and programs you are interested in, you'll get a much better idea of the current situation. Full of artsy people too usually.
Extracurricular Opportunities:
1.) Describe the extracurriculars offered at your school - what did you like most about it?
I will emphasize once more the responsibility you carry here. Although there are a variety of opportunities already offered, if you ask and look for more you'll realize there are double the invisble opportunities behind your questions and desires than there are visibly offered every week. Ask, plan, find people that want to back your ideas and you can try a thousand things during your stay. The most interesting to me was the access to Black Rock Forest. Although at time syou might be warned of bears, snakes and hunting seasons etc, the place is magical. Plus, you might get access to work with the Black Rock Forest Foundation scientists! You can learn much about nature and how they work there. Opportunities in New York City are also easily accesible, seek for them, the palce is big enough for everyone and everything that you will probably imagine.
Dorm Life:
1.) Describe the dorm life in your school - what did you like most about it?
This also highly depends on the people you will encounter. It was shocking to feel/see the difference in experience each year since so many people come and go. Completely different experiences. Be prepared and open to a new and different experience. You won't be the same your next year there and the school won't be either, so don't expect it to be so, you might dissapoint yourself. Living with the people who will become your friends is intense. When it's good it's great but when it's bad you'll hate it. That is oftene up to you though, so remember how much agency you have on your experience. The best about living with your friends is that the level of closeness/intimacy you get to have is like nothing you have probably experienced at those ages. You are exposed yourself and to others' quirks and ugly things. It might be hard to leave the school and not have that level of access and closeness with the friends you leave there and the ones you will have after. The food °Black Market° is huge! Bring stuff from your country and trade with all the others, you will see so many interesting things. Not great food access but that is probably a good thing. There are microwaves and you might be able to get a fridge. The dorm parents were often your friends by the end of the first month. They can also become mentor-like figures if the relationship allows it to. Very supportive and caring group of people often. If you haven't lived with siblings this might be the closest thing. If you have siblings you also know how annoying that is at times.
Dining:
1.) Describe the dining arrangements at your school.
The view from the canteen is beautiful. The food is good. You will really want to be quick to avoid the long lines for certain things. Be mindful that the canteen tries to accomodate to many cultures at the same time, they really do a good job although you might not be personally always pleased. Feel free to try and ask or give suggestions! Everyone is open for suggestions, just dont be discouraged if yours isn't listened to at that time. Sometimes I did wish you could have access to the canteen or food during other times. But this is where your own shopping (especially with a fridge) will help. If not, go trade within your dorm! You might make friends that way too. The table stend to end up beign divided by friend-groups. It might be scary but I recommend that you try out different tables. Try different placements and groups and you'll get a lot more of your dining experience.
Social and Town Life:
1.) Describe the school's town and surrounding area.
Having the forest next to you is the basically all the surroundings you get access to immediately. Outside of that, visits to New Windsor and Newburgh don't have much to add really. Small New England town, that's all. Quick access to New York City though, that is the most fun to go with your friends
2.) Describe the social life at your school - what did you like most about it?
It heavily depends on the people you get. But the atmosphere creates a sense of community. You seem to matter more in a sense, for better or worse. Basically since everyone basically knows everyone your actions have heavier consequences. If you manage to accept this quickly, you can be inspired to create change and care for things to be good and better.
Two most unique things about SKS when I went there were the size and diversity of the student body. The largest number of students the school had while I went there was only 190 students. . .
Our campus and community are small which creates many opportunities to be fully familiar with almost every aspect of life at SKS. The arts (theatre, visual, film) and sports were heavily emphasized and had very. . .
Storm King is a wonderful second home with a wide assortment of clubs and activities. The school gets students out of their comfort zones with opportunities to get involved with new sports or arts. . .
Show more reviews (

2 reviews

)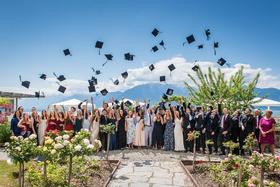 Nurturing Futures: A Journey through Boarding at Haut-Lac School in Switzerland
Nestled in the hills overlooking Lake Geneva in the French-speaking part of Switzerland lies an educational gem that embodies a unique blend of academic excellence, cultural richness and a profound sense of community. Founded over 30 years ago, Haut-Lac International Bilingual Day and Boarding School is now home to both 600 day students and a maximum of 30 boarders from around the world.
Navigating the Modern Maze: Emerging Challenges for Boarding Schools
Explore the pressing challenges facing boarding schools, from marketing difficulties and rising insurance costs to facility maintenance and recruitment of competent trustees and teachers. This article delves into these complex issues and proposes innovative strategies to overcome them.
What To Wear at Your Job Interview
Navigating job interviews can be stressful, but knowing what to wear shouldn't be. Our comprehensive guide covers the essential dress code tips for men and women interviewing at boarding schools. Make your first impression count with style and professionalism.