Reflections and Advice:
1.) What do you think makes your school unique relative to other boarding schools?
Chapel Hill-Chauncy Hall (CHCH) caters specifically to students learning needs. All teachers base their methods on Howard Gardner's learning style of "multiple intelligences." CHCH really puts places emphasis in different ways of learning. Also available to students is a Learning Center, which specializes in helping students develope homework skills, and also aids in their understanding of classroom topics. In addition to the learning center, all faculty members are extremely friendly and approachable - always willing to spend extra time with students in order to help them with understanding lessons.
2.) What was the best thing that happened to you in boarding school?
I had a terrible experience in my first two high schools. I was anti-social and had few friends. Chapel Hill-Chauncy Hall changed all of this. This school gave me the oppurtunity to grow, both as a student and a person. It also opened me up to a whole new world of friends and aquaintences that I had never experienced before. This culminated in my receiving the Worcester Award at graduation, in honor of my commitment to the school.
3.) What might you have done differently during your boarding school experience?
I wish I had gone all four years of high school, instead of just two.
4.) What did you like most about your school?
The friendly atmosphere of Chapel Hill-Chauncy Hall makes all the difference...I enjoyed the faculty, staff, and students. I guess you could say I liked everything.
5.) Do you have any final words of wisdom for visiting or incoming students to your school?
Take advantage of all the learning utilities CHCH offers. The Learning Center can really help you look at school work a different way.
Academics:
1.) Describe the academics at your school - what did you like most about it?
As mentioned before, all the teachers at CHCH are friendly and easy to get along with. It is not unusual at all to see students eating lunch with a teacher, and at the same time discussing class topics. Because most of the teachers are so likeable, class flows easily, as the students respect their instructor. CHCH classes are taught in a variety of different ways, adhering again to the notion of "multiple intelligences." A class could vary from an intriguing power point lesson, a class run completely by students, and obviously a lecture. Because of these many teaching methods, class was never dull. I thoroughly enjoyed most of my classes.
Athletics:
1.) Describe the athletics at your school - what did you like most about it?
I was not involved in the athletics program at CHCH.
Art, Music, and Theatre:
1.) Describe the arts program at your school - what did you like most about it?
Because of its small student body, CHCH allows students who might not necessarily be the most talented actors/artists/athletes to take a large role in whatever they do - thus increasing their development in that particular field. I had never gotten an oppurtunity to showcase my acting talents, having always been in much larger schools. That changed at CHCH as I was given one-on-one attention, and encouraged to make bolder choices with my acting skills. Much of the school turns out to see the shows, and I was able to show the students what I was capable of. In CHCH shows no students are cut and they are given every oppurtunity to act if they wish or take part in tech. I particularly enjoyed the sense of community that developed within the drama program - I believe this allowed us to put on better shows and develope a great chemistry within the cast.
Extracurricular Opportunities:
1.) Describe the extracurriculars offered at your school - what did you like most about it?
A CHCH student is required to take an after school activity. This can range from a sport, to theater, to art. Although I did not take adavantage of this (being strictly a theater person), I enjoyed seeing all the options CHCH had available for the afternoon. There was anything from fitness to woodworking, to photography. Again as a drama person, I definitely benefitted from meeting new people in the plays every term. Everyone I met was eager to experience new things, and they were able to do so through these numerous activities.
Dorm Life:
1.) Describe the dorm life in your school - what did you like most about it?
I did not live in the dorm.
Dining:
1.) Describe the dining arrangements at your school.
The cafeteria is usually always open at CHCH - its a small intimate facility that can hold about half the school (2 separate lunches are needed). The cafeteria staff in particular is very noticeable - the lunch ladies are EXTREMELY ENTHUSIASTIC, and are often on a first name basis with most of the students. The food was ok - it was better then my public school experience, but obviously not a 5-star cuisine. It is also important to note that Chapel Hill has since renovated the dining hall after I graduated - I am guessing it is an even more enjoyable place to be because of this.
Social and Town Life:
1.) Describe the school's town and surrounding area.
I am not incredibly familiar with the area.
2.) Describe the social life at your school - what did you like most about it?
Being a such a small school, one would think the social life at CHCH would be hard to deal with - especially since everyone knows each other. However, I found this to be exactly the opposite. I loved the fact that I knew everybody on campus, and it was great to be able to hang out with a number of different people. Having had such little social life at my previous public high school, I was surprised how quickly I made friends and connections at Chapel Hill. Again I cannot stress enough how much an impact the friendly faculty and staff has...this atmosphere carries over to the students and their relationships with each other.
Daily Schedule:
Weekday
Weekend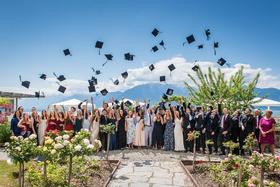 Nurturing Futures: A Journey through Boarding at Haut-Lac School in Switzerland
Nestled in the hills overlooking Lake Geneva in the French-speaking part of Switzerland lies an educational gem that embodies a unique blend of academic excellence, cultural richness and a profound sense of community. Founded over 30 years ago, Haut-Lac International Bilingual Day and Boarding School is now home to both 600 day students and a maximum of 30 boarders from around the world.
What To Wear at Your Job Interview
Navigating job interviews can be stressful, but knowing what to wear shouldn't be. Our comprehensive guide covers the essential dress code tips for men and women interviewing at boarding schools. Make your first impression count with style and professionalism.
Navigating the Modern Maze: Emerging Challenges for Boarding Schools
Explore the pressing challenges facing boarding schools, from marketing difficulties and rising insurance costs to facility maintenance and recruitment of competent trustees and teachers. This article delves into these complex issues and proposes innovative strategies to overcome them.