Reflections and Advice:
1.) What do you think makes your school unique relative to other boarding schools?
Hebron Academy was a unique place for many reasons, in particular, its location. In the woods of Western Maine, with a view of Mount Washington in the distance, things were put into perspective. You were constantly surrounded by beauty on all sides and had all aspects of nature at your fingertips, from hiking to skiing to canoeing or snowshoeing, it was all right there. At times being so far out in the middle of nowhere seemed isolated, but more often it felt protected. Away from the intensity and hustle of more populated areas, Hebron allowed you to take the time to focus on friends, school, and the outdoors.
2.) What was the best thing that happened to you in boarding school?
Being allowed to direct and produce my own play was a pretty amazing experience that I never would have had if I hadn't gone to Hebron. It was a place that allowed you to make that kind of thing happen. I think that was what left the biggest impression on me. Well, that and teaching the headmaster how to Swing dance at the Hebron 2000 Gala. It was a community in every sense. You knew everyone, appreciated eveyone for who they were and they felt the same about you. I learned so much from being in a place where I lived with my classmates and teammates and where you could be friends with your teachers. I had coffee with one of my old dorm masters in Harvard Square last year. Not that many people can say that about professors after they've graduated. And there are things about Hebron I don't think I could have found at any other boarding school. Hebron is not snobby or pretentious. And it's not huge or overwhelming. But it's a good education and a life-time experience I will never forget. Up to this point, going to Hebron has been the best decision of my life. Being in a community like that allows you to make a name for yourself. It allows you to leave an impression on a place even after you're gone, and it teaches you how to approach the world in the same way.
3.) What might you have done differently during your boarding school experience?
Honestly, there is very little I would have done differently. Not to be a bad example, but the only thing I would have done differently is to perhaps break the rules a little more often. You can't always do what you're supposed to. And sometimes its good to get out there and experience stuff while you have the chance.
4.) What would you never want to change about your school?
I would never want to change Hebron's location. I've been to a lot of places since my time there, but I still feel like it is one of the most beautiful places in the world. Every autumn I wish I was canoeing there or walking through the woods. It was one of the best parts of going to school there.
5.) What things could be improved about your school?
There are very few things to be improved upon at Hebron. The few things that do need improving cost a lotof money (for facilities and such), but if I went back to do it all over again, I wouldn't want them to change a thing.
6.) Do you have any final words of wisdom for visiting or incoming students to your school?
Spend as much time as you can around campfires down at Marshall Pond and bushwacking through the woods. Have someone tell you the legend about Whiskey Willy and make sure you get up to see the sunrise at least once. Sit on the heated steps in front of Sturtevant dorm during a snowstorm and always have a snowball fight on snowdays. Go apple-picking and listen to the Heebeegeebies and stay up until 3 am talking with friends on a regular basis. Cherish every moment you have at Hebron, even though the trivialities of high school may get in the way, because when you're gone and graduated and when you are somewhere sitting at a desk working, when you close your eyes, you'll be remembering October canoe trips and watching the Princess Bride for the 100th time in the union, and you'll wish you were there.
Academics:
1.) What did you like best about your school's academics?
The best part about the academics at Hebron Academy was that your teachers were not only the people who taught your classes. They were also your dorm parents, your coaches, your friends and your advisors. They would never let you slip through the cracks because they were so invested in you in every way. They genuinely care about how you are doing and are willing to stay up all hours of the night to help you study, are willing to meet with you as many times as it takes, and are willing to help you every step of the way until they see you succeed. And when you do succeed, they feel your happiness at succeeding . In addition to the spectacular teachers, at a place like Hebron, you get to have a lot of contact with your teachers because the class sizes are so small. You're not going to get lost in the crowd when your class only has ten people in it. I had a Latin class which only had three people. It was like I had a personal tutor. So the small class sizes are in part what make your contact with the professors so accessible.
2.) What did you like least about the academics in your school?
When I went to Hebron (and as I understand it things have changed since then) the Art and Music portions of Hebron's academics were not as strong as I would have liked them to be. Though students were required to take a certain amount of Art courses during their time at the school, the facilities were lacking. There wasn't enough funding for some supplies and the options we had for classes were limited. Since I graduated, however, I hear that the old gymnasium has been remodelled to be a theater and new facilities have been installed.
Athletics:
1.) What did you like best about your school's athletics?
Hebron's school year was divided into three segments. For each segment we were required to do an afterschool activity, two of which had to be athletic. As someone who has never been all that good at sports this intimidated me at first. I soon began to realize that, because Hebron's student population was so diverse, a lot of the students from other countries (as well as the U.S.) were as lost as I was. Because of this, there were opportunities at skill levels. I learned how to swim in one trimester, and spent another trimester learning wilderness medicine. I loved them both. The school is small enough that you always get individual attention from the coach and close instruction. For those who were more skilled, there were higher levels of athletics as well. Our hockey team is one of the best in its division and when I was there our Girls' Hockey Team won in its division. Our cross country and track teams were great as well as our field hockey and lacrosse.
2.) What did you like least about the athletics in your school?
Sometimes one got the impression that part of our school's population was there specifically for their skill in one particular sport. Hockey was taken seriously at Hebron and a good portion of the school participated in one way or another. In the end hockey was a source of community for our school; a way we could rally together to support one of our teams. But because so many of the students at the school were there because they could play hockey, it detracted a little from an otherwise very vibrant and diverse student population.
Art, Music, and Theatre:
1.) What did you like best about your school's art program?
One of the greatest things about Hebron, and possibly my best experience there, was that the school was small enough that everyone could make an impression if they wanted to, and anything the school didn't have, you could create if you worked hard. I was at the school for my last two years of high school. The first two, and the rest of my primary education had been at public schools. At these schools they had programs for student-directed plays. When I went to Hebron, no program like this was available yet. I went to the Headmaster with a proposal, got permission to direct and produce Shakespeare's A Midsummer Night's Dream as an afterschool activity and three years later student-directed Shakespeare productions have become a tradition. I love that about Hebron. If there is something you want that they don't have, you can make it happen. Besides Shakespeare, Hebron's Music and Arts are wonderful because of the people involved. Some of my favorite professors at the school are in the Art and Music departments and their dedication to their work makes it all worthwhile.
2.) What did you like least about your school's art program?
I wish that when I was there Hebron could have had better funding for their Arts and Music programs, but as I understand it this is getting better. A remodelled stage and new facilities are now in place, and, though I have not yet had a chance to see them, I'm sure they are a great improvement.
Extracurricular Opportunities:
1.) What did you like most about the extracurricular activities offered at your school?
There was a huge variety of programs to choose from for extra-curricular activities, my favorite being Hebron's a capella group the Heebeegeebies. In addition Hebron had their own radio station, its own newspaper, a yearbook organization, a Young Womens Group and a Diversity Committtee as well as Green Key (a group that gave prospective students a tour of the campus). There were also volunteer programs at local gardens and retirement homes that students could participate in after school.
2.) What did you like least about the extracurricular activities offered at your school?
One's day at Hebron was already so jam-packed with school, afterschool sports/activities, study hall, and everything else, that it was often hard to find the time to participate as much as one might have liked in all the other activity options.
Dorm Life:
1.) What was the best thing about dorm life in your school?
Dorm life was one of the best experiences I had at Hebron. When you live with people, you get to see them at their worst and at their best. You get to share all those moments with them and that element creates some of the deepest friendships anyone can have. Living with your classmates as well as being on sports teams with them and in activities with them truly lets you see the depth of a person and as a result, you gain this amazing respect for all the people that surround you.
2.) What did you like least about dorm life?
The worst thing about dorm life, to be perfectly blunt, is relationships. If you date someone and things don't work out, you still eat with them, play sports with them and see them in class everyday. It kind of forces you to grow up and get over it, but things can sometimes be awkward. At least the guys and girls dorms were seperate.
Dining:
1.) What was the best thing about your dining arrangements?
There were always a lot of options in the dining halls, so if you didn't like what was being served there was always cereal or a bagel. But generally speaking, as far as boarding school food goes, the meals were pretty good.
2.) What did you like least about your dining arrangements?
The dining halls were only open at very specific times so your eating scedule was pretty strictly regimented. Occassionally they would make exceptions if sports teams got out of practice late or something. But on the whole, you either ate when it was open or you ate in the student union where you had to pay.
Social and Town Life:
1.) How welcome did you feel by the other students when you first arrived at the school
My first day at school my parents' car pulled up to the sidewalk and was immediately greeted by three girls who asked if I wanted help moving in. Everything at Hebron was like that. It is a small enough school that by the end of the first month everybody knows your name. There are no groups or cliques. I could have sat down at any lunch table and been welcome. It was great and one of the hugest differences I noticed between there and my previous public school.
2.) Describe the level of diversity and integration of students in your school:
My first year at Hebron my roommate was from Germany. I had friends from as far away as Lithuania and Korea to as close as Maine. I loved the international population at Hebron. Coming from small town in Maine where pretty much everyone is Caucasian and has a family that has lived in that town for generations, it was wonderful to learn about and experience different cultures. My favorite example of this is Hebron's Candlelight ceremony in winter when people from all different countries tell about their winter-time holidays and traditions. Being a member of Diversity Committee was an important element to my experience there as well.
3.) Describe typical fun activities you did on a weekend:
The best times at Hebron were those beautiful spring days when the air was warming up and you'd look out over the front lawn on the weekend to see absolutely everyone outside. We'd play frisbee or sit underneath one of the trees and teach each other how to play different songs on the guitar. Sometimes we'd walk down to Marshall pond (part of Hebron's property which also includes their own mountain -Mt. Marie) and just sit to talk and relax. The Outdoor Education instructors usually had a trip planned so sometimes we'd go canoeing or repelling. But usually the weekends were our time to relax, with snowball fights or sledding or just hanging out.
4.) What was the town like?
Hebron Academy is in the middle of the woods, but during the week everyone was too busy to notice anyway. When weekends came around the school provided trips to the mall or the movies into town. Sometimes the activities director would set up trips to sports games or local performances in Portland. It was nice, but more often then not there was a hiking trip or something to do around campus anyway.
Daily Schedule:
Weekday
7:00 AM
A disclaimer first: its been a while and this may not be exactly how the schedule works. Consider it a rough estimate. Wake up at the last minute and get ready for school
7:45 AM
Morning Meeting (everyone meets in the chapel for announcemnts etc)
8:00 AM
First Class Period Starts (at least one class period a day. you usually have free and can go back to the dorm or hang out) the class schedule rotates every day.
9:15 AM
Morning Break ends
9:15 AM
Second Class Period
10:15 AM
10:10-11:00 third class
11:00 AM
1/2 an hour free before lunch
12:00 AM
Fourth class period goes until 12:50
12:45 AM
Fifth class period goes from 12:50-1:40
1:45 PM
Sixth class period goes from 1:40-2:30
2:30 PM
1/2 an hour to get ready for sports
3:00 PM
After-School Activities start
5:00 PM
After-School Activities end around 5:00 or 5:30
6:00 PM
Hang out with friends (particularly of the opposite sex since you won't see them after 8pm)
10:00 PM
Study Hall ends and you stay up late talking with friends
Weekend
12:00 PM
Wake up at noon get ready for the day
1:00 PM
Go to the Union to get something to eat
1:30 PM
Hang out with friends (outside if its nice out, in the union if its cold)
2:00 PM
Some people leave for the mall trip
5:00 PM
Head up to the dining hall for dinner
5:30 PM
Finish dinner hang out and relax until curfew
11:00 PM
Curfew, go back to the dorm, stay up and watch movies with friends
3:00 AM
Head to bed with the late-night giggles (because everything is funny at 3 in the morning)
Hebron's location is a great setting to enjoy the outdoors. There are a variety of outdoor activities to take part in. The campus also has its own hiking trails, and in the fall and winter. . .
Hebron encouraged us to serve the surrounding community with designated community service days throughout the school year, as well as celebrating the diversity of our school by themed dinners and cultural events. . .
Hebron was so transformative for me. The main things that I can accredit this to are the the population of international students on campus and the community among women. In the upper school (the high. . .
Show more reviews (

6 reviews

)
Mastering the Boarding School Selection Process: A 5-Step Guide
Discover the ultimate 5-step guide to choosing the perfect boarding school for your child. Explore essential factors, such as academics, campus facilities, extracurricular activities, and more. Make an informed decision to provide your child with an enriching and transformative educational experience. Read now!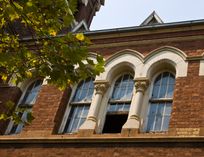 5 Founders and Their Boarding Schools
What prompts somebody to start a boarding school? The motives range from idealism to munificence right on through to capitalism. The common thread seems to be ample capital and a vision of what education can do.