Reflections and Advice:
1.) What do you think makes your school unique relative to other boarding schools?
Let me start by saying that if you don't have time to read this entire review, read what I have written in the "Reflections" section. It is this section that I think best encapsulates what you will gain by attending Groton.OVERVIEW I attended one private school and considered several others before attending Groton. While at Groton I visited numerous other boarding schools in New England (for sports games, etc). These experiences have convinced me that Groton is truly a unique place. There really are too many unique things about Groton for me to accurately illustrate the unique qualities of the school, although I think this web site's description of the school provides good insight.One unique aspect prospective students should realize is that Groton is very small (i.e., enrollment). In a sense, it feels more like a community than a school. I'm sure lots of boarding schools have small student to teacher ratios (as Groton does), but at how many do you end up feeling like a known individual? At Groton, you will know everyone's name, including not only the students; but also the faculty, faculty children, faculty dogs, and all staff members. You will interact directly with all of the student body, and will develop close relationships with several faculty members. The value of this community-like atmosphere was not really evident to me until I attended a University with 15x more students in my freshman class than all of Groton School. If you don't want to be just a number or a name, Groton is a good place for you.Another aspect of Groton that makes it unique is that it is still rich with tradition. As you consider boarding schools you may not think attending a school with tradition is important to you (I'm sure I would have thought that). Let me tell you, however, that the numerous traditions at Groton not only make it a unique place, they will also add a lot of value to your boarding school experience. I vividly remember living in the 2nd Form (8th grade) cubicles and having stories read to us as we dozed off. Then there was pulling the cart around the circle with the headmaster inside, and tossing up the Captains of the winning sports teams after the big St. Marks games. There was also the daily handshakings, "roll calls", and school birthday celebrations (these are mentioned in the site's school description). These are just a few of the many things that make Groton stand out.A final aspect of Groton I think is important, is that the school does not focus solely on academics. Significant effort is put into helping students develop independence and responsibility, as well as their social skills, ethics, and values.
2.) What was the best thing that happened to you in boarding school?
I came across this web page by accident, and I noticed that almost all of the reviews came from recent graduates. As a result, I thought it would be worthwhile for perspective students to get insight from someone who has been removed from boarding school a whileIn retrospect, Groton changed my life, and there is no doubt it was a major turning point for me. Surely the academic experience was great, but I gained SO much more from Groton than that. Matter of fact, in considering whether to send my own children to Groton, I would send them on the non-academic qualities alone. Seventeen years later, I see aspects of my experience at Groton in my every day life. Groton definitely helped me "succeed" (at least in my own view), and has given me a sense of independence, confidence, and understanding I don't believe I would have gotten at public school. To this day, I relish my Groton memories, and my best friends are those that I made at Groton.In summary, Groton is so much more than a school in so many ways.
3.) What might you have done differently during your boarding school experience?
Enjoy your time in boarding school. Don't get too caught up in academics and associated pressures. Take time to make friends and have fun. There will be plenty of time later in life to stress-out, and there's a lot more to life than books. Enjoy the things that boarding school offers that other schools don't.
4.) What did you like most about your school?
The other students. There are some really great people that attend Groton.
5.) Do you have any final words of wisdom for visiting or incoming students to your school?
If you are interested in Groton, I encourage you to visit. Prospective students can spend a night at the school. Doing this will help you determine if Groton is the right place for you.
Academics:
1.) Describe the academics at your school - what did you like most about it?
Classes are small, which is a real benefit. A lot of classes are
Athletics:
1.) Describe the athletics at your school - what did you like most about it?
First of all, everyone is part of a sports team. This is one example of Groton's intent to develop students in areas besides academics. I believe Groton sports are good, especially given the size of the school (we would regularly win league championships against schools with many more students). The coaches made sports fun, and their was a lot of support from the other students during sports contests. Sportsmanship and work ethic were taught and valued, and as in academics, there was individual attention (i.e., coach helping athletes individually).
Art, Music, and Theatre:
1.) Describe the arts program at your school - what did you like most about it?
These subjects were an important part of the school curriculum. I think the school has developed a lot in these areas since I graduated (e.g., new buildings for visual arts and theater), so my views on these subjects is definitely not as valid as those of recent graduates.Groton pulled in some amazing public speakers (e.g., Maya Angelou), and attendance at public speaking events was mandatory.
Extracurricular Opportunities:
1.) Describe the extracurriculars offered at your school - what did you like most about it?
Most of my extra-curricular activities involved doing stuff with my friends, although there are considerable student organizations and volunteer opportunities for students interested in them.
Dorm Life:
1.) Describe the dorm life in your school - what did you like most about it?
Where to begin? This questionnaire lists topics such as room set-up, food access, and dorm selection. In the big picture, do these things really matter that much? The bottom line is the dorm situation at Groton helps facilitate making friends that you will have for life.
Dining:
1.) Describe the dining arrangements at your school.
The occasional food fights were great, especially when they served the pastries with cream filling. Honestly though, the best thing about the dining experience at Groton is the mandatory sit down meals. Seating assignments were random, so you would likely end up at a table with students in all different grade levels (table was headed by a faculty member). At sit down meals, manners were taught and usually enforced. I'm sure this sounds like a drag to potential students, but someday when you are on a date you will appreciate it.
Social and Town Life:
1.) Describe the school's town and surrounding area.
Groton House of Pizza. Getting there was a journey in itself (we called it an odyssey). The place was (and still is) run by a Greek family, and we used our education in Latin and Greek to give each family member a Greek name. Zeus was the patriarch, along with his wife Hera. Their son Apollo was the delivery man, whereas Hermes answered the phone and took orders.
2.) Describe the social life at your school - what did you like most about it?
The school would play a movie every Saturday night in "The Hall". We also had a surprise holiday every semester. The school would organize buses to take students to Boston, skiing, or the mall. On "Spring Fling" day, dorms would make a jersey and compete against each other in lots of crazy events.During my latter years at Groton, much of my social life involved looking for ways to get into mischief with my friends. I will spare the parents the agony of these stories.
Daily Schedule:
Weekday
7:00 AM
First wake-up bell goes off
7:15 AM
Second wake-up bell goes off
7:30 AM
Dorm head knocks on dorm room door to make sure you are awake
10:15 AM
Recess / Milk and doughnuts
6:00 PM
Dinner, study hall, free time, check-in at 10:00 (12:00 for Seniors)
10:00 PM
Late night activities
Weekend
12:00 AM
Buckingham bus trip to other school for sports event
11:00 PM
Check-in handshake
I think the most influential part of Groton is it's emphasis on community. As an effect of the small size and commitment to inclusion, Groton skillfully combines the independence that comes with attending a boarding. . .
Groton is unique in its campus set-up. It is centered around the "Circle" a large expanse of grass that is used as a soccer field in the fall and for lawn games in the spring. . .
Groton is a small school in the countryside with immense resources and an extremely demanding academic atmosphere; the first word most students associate with the School is "intense." The School's long history and honored traditions. . .
Show more reviews (

16 reviews

)
Mastering the Boarding School Selection Process: A 5-Step Guide
Discover the ultimate 5-step guide to choosing the perfect boarding school for your child. Explore essential factors, such as academics, campus facilities, extracurricular activities, and more. Make an informed decision to provide your child with an enriching and transformative educational experience. Read now!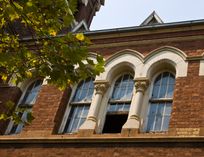 5 Founders and Their Boarding Schools
What prompts somebody to start a boarding school? The motives range from idealism to munificence right on through to capitalism. The common thread seems to be ample capital and a vision of what education can do.