Reflections and Advice:
2.) What was the best thing that happened to you in boarding school?
It's a bit in the past now, but boarding school really prepared me for college. I new how to play hard and work hard. Other kids didn't and their grades suffered. It also made me more independent and able to survive well without mom and dad. I can't think of a best thing because I think it was all good.
3.) What might you have done differently during your boarding school experience?
Nothing.
4.) What would you never want to change about your school?
Location, dress code, and type of people there.
5.) What things could be improved about your school?
Some facilities were old when I was there, but they've upgraded anything, so nothing really. I might add an equestrian center and attract more students from Europe and Asia as well as promote summer programs abroad.
6.) Do you have any final words of wisdom for visiting or incoming students to your school?
Go there and see for yourself. I had my mind set on Lawrenceville at an early age and went to St. George's thinking I would see it but that I would go to L'ville anyway. Lawrenceville was forgotten the moment we passed through the gates and saw the view. St. George's is, in my mind, the perfect boarding school. Good academics and sports, old-school dresscode, traditions, good people, and the best setting of any academic institution I know of.
Academics:
1.) What did you like best about your school's academics?
The faculty is excellent and the curriculum fairly broad.
2.) What did you like least about the academics in your school?
I can't think of anything that stands out now, but I'm sure there was something. At the least I can say that it was very rigorous and busy and tiring.
Athletics:
1.) What did you like best about your school's athletics?
They were fun and competetive but not too much so.
2.) What did you like least about the athletics in your school?
That we had to drive so far to get to away games.
Art, Music, and Theatre:
1.) What did you like best about your school's art program?
Interested teachers and interesting course offerings.
2.) What did you like least about your school's art program?
Facilites, though that has now changed with the completion of an amazing art center.
Extracurricular Opportunities:
1.) What did you like most about the extracurricular activities offered at your school?
Offerings and easy to get involved.
2.) What did you like least about the extracurricular activities offered at your school?
Difficult to organize and start new programs and no outdoors or travel clubs.
Dorm Life:
1.) What was the best thing about dorm life in your school?
Close relationships with friends.
2.) What did you like least about dorm life?
Away from home and sometimes it seemed like there were too many rules.
Dining:
1.) What was the best thing about your dining arrangements?
A nice room/facility and nice when parents came.
2.) What did you like least about your dining arrangements?
The food was generally not good.
Social and Town Life:
1.) How welcome did you feel by the other students when you first arrived at the school
St. George's is a lot of fun and the people are great.
2.) Describe the level of diversity and integration of students in your school:
Not very diverse.
3.) Describe typical fun activities you did on a weekend:
Going to Newport, going to beach, hanging with friends.
4.) What was the town like?
Newport is AMAZING!! You can do anything there and it's beautiful and fun. It is a huge asset as you can really get away from campus with a short taxi ride. The campus is also right on a hill overlooking the beach, which is AMAZING!!
Daily Schedule:
Weekday
7:45 AM
Wake up tired from being up late studying and hanging with friends. Jump out of bed, as roommate returns from shower, yelling to turn off alarm and get up. Jump out of bed, rush shower, throw on clothes, get [] bagle for brea
9:00 AM
History ends ( I had a test, ended up doing well) and now I'm in Physics. Boring.
10:00 AM
Physics is over and I'm in astronomy. It's a beautiful spring day on the Hill Top and I can see the beach and ocean from the class room. I can't wait to get outside.
11:00 AM
Class is over and I have a free period. I go back to my room, get my lacrosse stick, and hang out in front of New Dorm with some buddies passing the ball and also a frisbee.
12:00 AM
I go and get lunch. Lucky me they have tuna melts today. I get that with some fries and sit outside at a table on the lawn over looking the ocean and beach in the warm spring sun. It's a beautiful day and after lunch we sit around for a while chilli
1:00 PM
I...go to the dorm for books before going to English with my advisor, who's a great guy and an excellent teacher. We're reading something by Poe and it's a very enjoyable and lively classroom.
2:00 PM
Another free period and I go back to my room and do my English homework before going to Lacrosse practice at 3.
3:00 PM
It's a long hard practice in anticipation for this weekend's game against our arch-rival Middlesex, destined to be an epic battle. We go over plays. I practice face-offs. We do sprints and have a scrimmage and then do more sprints and drills befor
5:30 PM
Go to locker room and change. Shower and then go to dinner.
6:00 PM
Eat dinner. Pasta again, which sucks. Get dinner and go out to main quad.
6:30 PM
Play ultimate for a while and then shoot lacrosse balls at the net until we can't see anymore. Head back to dorm.
7:45 PM
Back at dorm for study hall. Play guitar for 15-20 minutes and then study hard for a good while. I have a ton of reading and don't know how I'll get through it all.
9:30 PM
Have been getting dressed up for Tuck for the past 5 minutes and at 9:30 head over for the Studio 54 theme night. There's music going loud and tons of people dancing and hanging out as there is almost every Thursday. My girlfriend's there and we ha
10:15 PM
Back at the dorm we have to check-in with the dorm parent. Then a debriefing amongst the boys on how Tuck did and didn't go and then to the books.
11:30 PM
Brad's gotten permission to order pizza late. We do and I go with him to pick it up. We eat and I'm recharged.
12:00 PM
Do some more homework. Lots to do and I take a break every hour or so to talk with my roommate and other friends. At 2am I'm spent.
2:00 AM
Get ready for, and then finally go to, bed.
Weekend
8:00 AM
Up late and late to first class. I hate physics but did well on quiz I got back.
9:00 AM
I have a free period and manage to get some breakfast. I go back to my dorm and read the paper while talking with friends in their room.
11:00 AM
Another class and then a free period during which time I get my lunch ready for the away game.
1:00 PM
We're on the bus to Middlesex. We're pumped. I listen to music, eat, talk, watch the game that's playing on the TV, and try to sleep a little.
2:45 PM
We play and do well, but in the closing minutes we lose and I am mad as is everyone else. I did well on faceoffs though and so am please with self.
5:00 PM
We take the bus back. It's quiet and we're dreading Monday's practice. We're looking forward to the night though.
6:45 PM
Get back and shower and change. Girlfriend and I are going with another couple to dinner. I'm excited and looking forward to it. We go to Clarke's Cooke House and see a bunch of other people there. After dinner we hang out around Newport
12:00 PM
Hangout in dorm and have fun. Go to bed late.
Mastering the Boarding School Selection Process: A 5-Step Guide
Discover the ultimate 5-step guide to choosing the perfect boarding school for your child. Explore essential factors, such as academics, campus facilities, extracurricular activities, and more. Make an informed decision to provide your child with an enriching and transformative educational experience. Read now!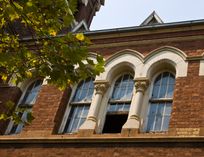 5 Founders and Their Boarding Schools
What prompts somebody to start a boarding school? The motives range from idealism to munificence right on through to capitalism. The common thread seems to be ample capital and a vision of what education can do.