Reflections and Advice:
1.) What do you think makes your school unique relative to other boarding schools?
Groton is able to offer large school programs in a small school setting, thus creating a true family-like, community atmosphere.
2.) What was the best thing that happened to you in boarding school?
Groton taught me the self-discipline and habits for success at every step of life I have encountered since graduating. Whether it be thriving in College, serving my community during and after college, or attending Columbia University for Graduate School, Groton provided me with the tools to not only survive, but thrive.
3.) What might you have done differently during your boarding school experience?
I would not have done anything differently, as every step of the way was a great learning experience. I would say to those going to boarding school to take advantage of every opportunity in front of you and dive into every piece of the school community that you can. Work hard but also HAVE FUN along the way, we sure did!
4.) What did you like most about your school?
The people. Groton is comprised of students and faculty from all over the nation and the world, something that was quite a change from my previous experiences. The people with whom I was at Groton are still my closest friends and colleagues to this day and we have all been in each other's weddings, are god-parents to each other's children, and are always in communication with each other at every opportunity.
5.) Do you have any final words of wisdom for visiting or incoming students to your school?
Don't believe what other students/graduates from other institutions have to say about Groton until you go see it for yourself. I was told that Groton was a grind, that I would never compete athletically, and that it was for nerds. Those individuals that passed on those thoughts had quite the different look on their faces when we beat them in sports or learned how really unique, fun, and amazing Groton is once you learn more about it.
Academics:
1.) Describe the academics at your school - what did you like most about it?
The small classes, combined with phenomenal Faculty, were the best part of the academic experience. Sitting around a table discussing in-depth details about the material we were covering felt more like a friendly conversation than school at times. It was during these discussions that I felt comfortable to take intellectual risks without fear, knowing that my peers were doing the same along the way, thus allowing for real growth. Our teachers were there to help us chart the course, rather than dictate every step of the way, which made for a real partnership in learning.
Athletics:
1.) Describe the athletics at your school - what did you like most about it?
The opportunity to learn and try new sports and then work through the ranks (III's-JV-Varsity) over time and compete for league championships. During my time at Groton ('88-'93) we were consistently at the top of the league and relied on the development offered at the lower level to feed the Varsity. In addition, having coaches who were also your teachers, dorm heads, advisors, etc... made a big difference in the strength and depth of the relationship.
Art, Music, and Theatre:
1.) Describe the arts program at your school - what did you like most about it?
The opportunity to participate and contribute even if one had none or very little background. The opportunities were endless and open to all interested, all while performing and producing at a very high level .
Extracurricular Opportunities:
1.) Describe the extracurriculars offered at your school - what did you like most about it?
Again, because Groton is a small school, one had the opportunity to participate in all activities and organizations in which one had an interest. Additionally, if a particular club or activity did not exist, one always had the opportunity to start that club or activity if interest so long as there was a faculty member who would support and supervise.
Dorm Life:
1.) Describe the dorm life in your school - what did you like most about it?
The size of the dorms and the intimate relationship with the dorm heads made for a true "family" atmosphere. Independence was given and trust granted in ways that other schools simply would not consider. For example, as seniors we were (and they still are) allowed out from 10:00 p.m.- Midnight every night and were expected to return to the dorm on time, and we always did, knowing that it was not ok to break that trust. As seniors we were entrusted with the responsibility to help run the dorm and we enjoyed that quite a bit.
Dining:
1.) Describe the dining arrangements at your school.
The balance of formal meals (formal dinner three times per week in the fall and spring) with informal meals made for a great chance to meet and dine with the entire school as well as just your friends when necessary. As well, the food was always quite good and the choices were many.
Social and Town Life:
1.) Describe the school's town and surrounding area.
Having the school not in the middle of town made for a nice balance of being able to walk to town when desired but also still be separate enough that safety or trespassing was never an issue. The grovery store, pizza shops, and convenience stores provided all we needed along the way.
2.) Describe the social life at your school - what did you like most about it?
The balance between friendships outside of your grade and the close bonds within your grade. As a 10th, 11th, & 12th grader you are mixed together in the dorms, thus making great friends in the years above and below you. As well, living with your friends was great and something that I often reminisce about still today.
Daily Schedule:
Weekday
11:00 AM
Recess- Milk and Cookies served
12:00 AM
Seniors in for the night
Weekend
10:30 AM
Classes end for day
6:00 PM
Order Pizza to be delivered
7:30 PM
Watch some College Football w/friends in Dorm Common Room
9:00 PM
Go to Student-Run Snack Bar, dance, in Student Center
9:00 PM
Or check out Movie on big screen
1:00 AM
Seniors in for the night
I think the most influential part of Groton is it's emphasis on community. As an effect of the small size and commitment to inclusion, Groton skillfully combines the independence that comes with attending a boarding. . .
Groton is unique in its campus set-up. It is centered around the "Circle" a large expanse of grass that is used as a soccer field in the fall and for lawn games in the spring. . .
Groton is a small school in the countryside with immense resources and an extremely demanding academic atmosphere; the first word most students associate with the School is "intense." The School's long history and honored traditions. . .
Show more reviews (

16 reviews

)
Mastering the Boarding School Selection Process: A 5-Step Guide
Discover the ultimate 5-step guide to choosing the perfect boarding school for your child. Explore essential factors, such as academics, campus facilities, extracurricular activities, and more. Make an informed decision to provide your child with an enriching and transformative educational experience. Read now!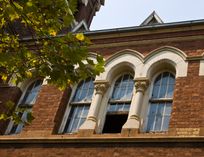 5 Founders and Their Boarding Schools
What prompts somebody to start a boarding school? The motives range from idealism to munificence right on through to capitalism. The common thread seems to be ample capital and a vision of what education can do.