Peddie School - Review #1
About the Author:

College Enrolled
University of South Carolina
Home Town, State (Country)
Charleston, SC
Years Attended Boarding School
4
Activities During Boarding School
I participated in Cross Country, Indoor Track, and Lacrosse, varsity honors in all three. I was also Captain of the lacrosse team my senior year.
Review

Description

University of South Carolina

While most boarding schools are smaller than public or even private day schools, Peddie was unique because we only had around 500 kids for all four of my years there. Another unique aspect was our. . .

Lehigh University

The Peddie vs. Blair rivalry undoubtedly sets Peddie apart, as the rivalry is the oldest in NJ (since 1903). Blair week is such a memorable week in the life of a Peddie student and no. . .

Lehigh University

I really enjoyed the fact that we had family style dinners. It allowed students of all grades and teachers from all disciplines to communicate with one another. The sense of community at Peddie is what. . .

Boston College

Choosing Peddie was the best decision I have ever made. They have a unique approach to teaching that could not exist anywhere else. The way they have integrated technology in the classroom makes learning so. . .

Villanova University

One of the most important aspects about Peddie is the relationship that the students form with their teachers, and not only the teachers they have in class. I formed some type of relationship with. . .

Show more reviews

(7

reviews)
April 20, 2018
Actually, there is no secret to getting your child into boarding school. Just a lot of hard work and a heavy commitment of time.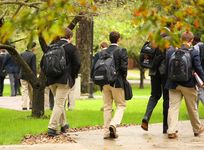 March 22, 2018
Some cynics think single-sex education is old-fashioned. The Kiski School shows how educating boys in a single-sex school is successful.
March 08, 2018
The wide range of fine academic, athletic, and other facilities found in boarding schools underscores the determination of schools to provide the very best for their students.