Reflections and Advice:
1.) What do you think makes your school unique relative to other boarding schools?
I really enjoyed how the teachers were extremely engaged in ensuring the students had the right amount of support academically and mentally. Teachers are something that makes Kent a special place. They provide excellent mentor-ship and are open and available if you need help with anything. Furthermore, the small classroom size and interactive teaching methods really helped me learn.
2.) What was the best thing that happened to you in boarding school?
Kent helped me gain independence and learn how to handle things without my parents. I really developed a lot of skills and habits that helped me massively when I got to college. I learned how to schedule conferences with teachers, adapt socially to a new environment, and pursue areas of interest on my own.
3.) What might you have done differently during your boarding school experience?
I would have reached out to become more involved in clubs earlier on. Looking back, I wish I took advantage of more opportunities that Kent had to offer. For prospective students, I suggest not being afraid to put yourself out there and try new things in the beginning.
4.) What did you like most about your school?
I liked the sense of Kent pride that I developed during the 4 years that I went to Kent. I really like the connections I formed and how I grew academically and personally during the time I was there. The school offers great opportunities and an exceptional experience that I wouldn't trade for the world.
5.) Do you have any final words of wisdom for visiting or incoming students to your school?
I really recommend going into Kent with an open mind. Be open to try new things and make connections. It is an incredible experience and great opportunity. Also if you are a runner there are great trails around Kent with beautiful sights!
Academics:
1.) Describe the academics at your school - what did you like most about it?
Kent is a very academically rigorous school. However, if you need any support it is always available. Teachers are open to meeting outside of class and hold office hours if you need extra review.What I like most about Kent academically is the way that the writing courses were set up and how the English department trains you how to write. They break everything down to grammar and build up to college level writing even in non-AP English courses. Looking back I had no idea how much I would come to appreciate this later in life. In college, I was able to use all the skills that I learned at Kent in terms of critical analysis and writing research papers and excelled in all my writing assignments.
Athletics:
1.) Describe the athletics at your school - what did you like most about it?
Kent is a school that holds great pride in its athletic department. There are several sports to choose from and a wide range of levels (varsity, jv, thirds, club). Sports including ice hockey, crew, and football are held to a high standard at Kent. I was fortunate enough to have the opportunity to participate on the crew team. This is a highlight of Kent that sets it apart from many other schools. The Kent School crew team is a family and an incredible sport to be able to try. Because Kent is right on the Housatonic River, practice is just a walk away. I really enjoyed being a part of the crew team and having the opportunity to learn how to row from some amazing coaches.
Art, Music, and Theatre:
1.) Describe the arts program at your school - what did you like most about it?
I was not extremely active in the Arts department at Kent. I did have some friends who participated in the different programs offered and they said that they enjoyed it very much. I would say that when I attended Kent the athletic programs overshadowed many of the arts programs. However, I do remember there being many improvements in the works at the time of my graduation to expand the arts programs.
Extracurricular Opportunities:
1.) Describe the extracurriculars offered at your school - what did you like most about it?
There are several clubs and extra-curricular organizations available at Kent school. They are excellent opportunities and I would highly recommend getting involved early. Something very unique about Kent is that you are able to form your own clubs if you find an interest and a supervisor. Kent allows the students to choose what kind of clubs are on campus based on what activities interest them. So if you love something, chances are other people may too and it gives you an outlet to connect with others.
Dorm Life:
1.) Describe the dorm life in your school - what did you like most about it?
The best thing about living at Kent is that there is always something to do and you become very close to the people you live with. Dorms have great common rooms that are where a lot of people hang out. You form a bond with everyone in you hall and it creates a family live environment.
Dining:
1.) Describe the dining arrangements at your school.
The dining hall is really quite good at Kent. There is a wide variety of options and they cater to many different diet preferences. There is also a snack bar available and is a really popular spot on campus.
Social and Town Life:
1.) Describe the school's town and surrounding area.
Kent is an absolutely beautiful little town and the people are very friendly. There are many shops and restaurants that are just a walk away. I really enjoyed going for walks into town during free blocks or on weekends.
2.) Describe the social life at your school - what did you like most about it?
Because Kent isn't a very large school, you know pretty much everyone who goes to the school. I liked the size of the school because while you knew everyone, it wasn't too small of a school at the same time. On campus there is a very laid back vibe when kids are not in class and everyone likes hanging out.
The freedom Kent offers its students is truly unparalleled, and with freedom comes responsibility: Students quickly learn how to look after themselves and one another. If you're looking for a place to learn independence, and. . .
Kent's emphasis on individualized education is one of the elements that sets it apart from other boarding schools. The Studies Office allows students to choose classes that interest them the most, when they have completed. . .
Campus is beautiful and landscape around it. It was very relaxing walking around campus and looking at the beautiful mountain algo and Housatonic river.Teachers and advisors were available 24/7 and always happy to give advice. . .
Show more reviews (

25 reviews

)
Mastering the Boarding School Selection Process: A 5-Step Guide
Discover the ultimate 5-step guide to choosing the perfect boarding school for your child. Explore essential factors, such as academics, campus facilities, extracurricular activities, and more. Make an informed decision to provide your child with an enriching and transformative educational experience. Read now!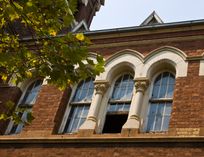 5 Founders and Their Boarding Schools
What prompts somebody to start a boarding school? The motives range from idealism to munificence right on through to capitalism. The common thread seems to be ample capital and a vision of what education can do.