Reflections and Advice:
1.) What do you think makes your school unique relative to other boarding schools?
What is unique about Chapel Hill Chauncy Hall is how the campus feels like a community. Everyone is very welcoming, and makes you feel like you aren't an outsider. The way they care about the well being of the students, makes a difference in how people feel going about academically.
2.) What was the best thing that happened to you in boarding school?
Going to a boarding school but being a day student has opened my view to other cultures. I have hosted international students on the holidays and become close to them, and have learned about their home country and traditions.
3.) What might you have done differently during your boarding school experience?
Don't be afraid to meet new people. Everyone is very kind and will want to help you succeed.
4.) What did you like most about your school?
I love the environment, and how it really does feel like a community. Everyone knows each other, and looks out for one another.
5.) Do you have any final words of wisdom for visiting or incoming students to your school?
If you have a campus bookstore, go there! I love talking to the lady who runs ours, she is a great person to vent to, or get advice from.
Academics:
1.) Describe the academics at your school - what did you like most about it?
What I like most about the classes at CHCH is the class size and student to kid ratio. Paying attention in class is hard, but what makes it easier is not having 25-30 kids around me. With the small class sizes it's easier to get work done and not get distracted. What I also appreciate is how the teacher can pay close attention to all the students and help individually with anything we may need
Athletics:
1.) Describe the athletics at your school - what did you like most about it?
What I like most is how we support each other, and never give up. No matter the team we face, and the score, we stay together and try to push through.
Art, Music, and Theatre:
1.) Describe the arts program at your school - what did you like most about it?
I have not participated in any of the theater classes or plays, but from my friends that have, they have loved it and felt like a family.
Extracurricular Opportunities:
1.) Describe the extracurriculars offered at your school - what did you like most about it?
The student run clubs are a big thing here. Students can create their own clubs if there isn't one already made.
Dorm Life:
1.) Describe the dorm life in your school - what did you like most about it?
I am not a boarder, I'm a day student but my friends who board love the dorm parents and activities they provide to make it fun for them, if they can't go home on the weekends.
Dining:
1.) Describe the dining arrangements at your school.
Flik makes sure to give us a variety of options each day. If someone had an allergy, they make special meals for them, so that they too can eat at school and don't have to bring their own food.
Social and Town Life:
1.) Describe the school's town and surrounding area.
Waltham is very diverse, and has a lot of activities especially in the spring. There are food places near school, so kids can sign out and walk there on the weekends or after school.
2.) Describe the social life at your school - what did you like most about it?
Everyone is very inclusive. You won't find someone who isn't willing to welcome you into their friend group.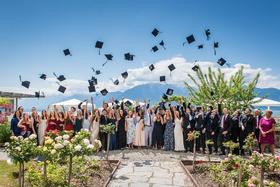 Nurturing Futures: A Journey through Boarding at Haut-Lac School in Switzerland
Nestled in the hills overlooking Lake Geneva in the French-speaking part of Switzerland lies an educational gem that embodies a unique blend of academic excellence, cultural richness and a profound sense of community. Founded over 30 years ago, Haut-Lac International Bilingual Day and Boarding School is now home to both 600 day students and a maximum of 30 boarders from around the world.
What To Wear at Your Job Interview
Navigating job interviews can be stressful, but knowing what to wear shouldn't be. Our comprehensive guide covers the essential dress code tips for men and women interviewing at boarding schools. Make your first impression count with style and professionalism.
Navigating the Modern Maze: Emerging Challenges for Boarding Schools
Explore the pressing challenges facing boarding schools, from marketing difficulties and rising insurance costs to facility maintenance and recruitment of competent trustees and teachers. This article delves into these complex issues and proposes innovative strategies to overcome them.