Reflections and Advice:
1.) What do you think makes your school unique relative to other boarding schools?
The teachers at Darrow are the main thing that stands out to me. They are not only devoted to teaching you but also seeing you succeed and helping you become the best person you can possibly be. The project based learning was very helpful for me, being a person who didn't really enjoy school much, working on projects helped keep me interested in what we were learning. A really interesting part of the Darrow curriculum is something called Hands-to-Work. It is fit into the schedule every Wednesday instead of classes. It is community service, which sounds very daunting, but there are so many groups you can pick from, and I guarantee there is a group that everyone will enjoy. Personally I really enjoyed Tractor crew and Dinning crew, during tractor crew, we would help the school facilities, and do things like recycling or move soccer goals or lacrosse goals. During the dining crew, we would cook lunch every Wednesday. While in these crews, you don't only feel like you are doing community service; It is also a chance to make new friends, a bond with friends you already have, and get closer to the faculty members who are leading your group.
2.) What was the best thing that happened to you in boarding school?
The most amazing things for me at Darrow were all the friends that I made, not only being students but also teachers. The teachers are all very willing to help the students in and outside of classes. You can get close enough with teachers where you could call them friends. Every student is welcomed at Darrow, the student body is very accepting, and there are many groups that you can go find where you will definitely "fit in." Nobody is really mean to each other, things like bullying isn't a problem at Darrow.
3.) What might you have done differently during your boarding school experience?
My advice to people would be to always put yourself out there and try your best, especially with things you are interested in. Don't be afraid to try new things, for example, my freshman and sophomore year I was scared to try lacrosse, and that is one of the biggest regrets I have during my high school years.
4.) What did you like most about your school?
I like pretty much everything about where I went. I am extremely happy I went to Darrow. Without it I definitely wouldn't be the same person I am today. I would recommend this school to anyone, it is a great place to learn and grow!
5.) Do you have any final words of wisdom for visiting or incoming students to your school?
There isn't any Dorm that I would recommend in particular, it's more about where you personally feel at home, and what dorm your friends are in. There are a lot of amazing places to hang out on campus, the student center and my friends dorms were my favorite places to hang out.
Academics:
1.) Describe the academics at your school - what did you like most about it?
The academics at Darrow are as hard as you want to make them challenge by choice. If you would like to pursue a higher level math, higher level sciences, or any higher level classes, you are allowed to do so. If you would like to pursue more artsy classes, you are also allowed to do so, so long as you complete the class requirements, you are allowed to take pretty much any class that is offered. The small class sizes are extremely helpful and help the teachers really understand what each student needs to learn best. The teachers are also willing to be of help outside of classes, with open hours, or you can ask to personally meet with them. Darrow has a lot of diversity in the course selection, there are so many choices in what classes you can take, and if the class isn't offered you can apply for an independent study, where you are monitored on your progress, but you can learn whatever you would like.
Athletics:
1.) Describe the athletics at your school - what did you like most about it?
Darrow offers a pretty decent amount of athletic programs. Every student is required to take at least one competitive sport in one of the three trimesters, or the student can opt to take 2 competitive sports, and have one trimester off. Darrow also offers independent sports, you just need to get permission from the head of athletics, these independent sports can range from things off campus, or doing personal training for the sport you are focused on. A lot of people tend to do things like independent basketball, so they can play AAU or so they can just prepare themselves for the upcoming season. All the sports programs are relatively competitive, some a little more, and some a little less. The great this about Darrow sports is that if you aren't great at the sport, you will still be offered a spot on the team, and you can still pursue the sport. The facilities aren't bad; they are mostly all kept as clean as possible, and the only time you are allowed to use indoor facilities like the gym or basketball court is when you are accompanied by a student prefect or a faculty member.
Art, Music, and Theatre:
1.) Describe the arts program at your school - what did you like most about it?
Personally I can't speak for the Art, Music, and Theater programs. Sadly, I didn't participate in them that much; I participated in sports much more. I can say that the facilities are very nice, and they are also very well kept, and up to date. There are a lot of classes offered for these programs, as well as a lot of extra-curricular activities, and again, even if you aren't the greatest actor, or singer, you are still offered a position to try to better your skills.
Extracurricular Opportunities:
1.) Describe the extracurriculars offered at your school - what did you like most about it?
Darrow offers a lot of extra-curricular activities, the most amazing thing to me is that even if they don't offer an activity you want, you can try to start one. Some friends and I all tried to start a baseball team, and some friends and I also did an independent Hands-to-Work, where we built a mountain bike trail on campus. Darrow gives you the chance to pursue any activity you are interested in, and that is something hard to find!
Dorm Life:
1.) Describe the dorm life in your school - what did you like most about it?
I was a day student, so I didn't really spend as much time in the dorm as the average student. The amazing thing about being a day student is that you are allowed to stay the night with your friends, as long as you fill out a little form. I would usually spend Tuesday nights, and Friday nights at school, sometimes other nights if sports got back a little late. Even while being a day student, I still have so many memories I will never forget of being with my friends in the dorm.
Dining:
1.) Describe the dining arrangements at your school.
The Dinning hall is open for three meals a day, breakfast from 7:30-9, lunch starting at 12-1, and dinner starting at 5:30-6:45. These times are also a little flexible, if you have a free block in the morning and you come in a little while after 9 you can still grab breakfast.
Social and Town Life:
1.) Describe the school's town and surrounding area.
Sadly, there isn't much near Darrow, but the school does offer weekend trips to malls, stores, and many other fun places. Around Darrow there are only a couple small establishments. I like it not really being close to anything, because it really makes you feel apart from the community you are in at school.
2.) Describe the social life at your school - what did you like most about it?
Darrow is a very small school, where it is easy to make friends, and learn a lot about people with different cultures than yours. The community is very diverse, and that is also very amazing for making new friends and learning about other cultures. Even though it is a high school, there isn't really much drama within the student body, obviously there is some, but the community (Students and Teachers) try to resolve everything as quickly as possible.
Daily Schedule:
Weekday
Weekend
The teachers at Darrow are the main thing that stands out to me. They are not only devoted to teaching you but also seeing you succeed and helping you become the best person you can. . .
Darrow School gave me academic passion. I struggled as a freshman in a public high school and was in need of a change in academic setting to improve my overall experience. Darrow gave me that. . .
Darrow is a beautiful school set on a National Historic Landmark, that of the first Shaker settlement in the USA. It holds this history in the buildings still used as dorms and academic spaces, and. . .
Show more reviews (

2 reviews

)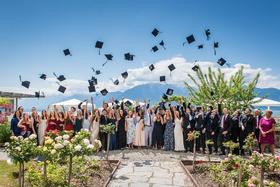 Nurturing Futures: A Journey through Boarding at Haut-Lac School in Switzerland
Nestled in the hills overlooking Lake Geneva in the French-speaking part of Switzerland lies an educational gem that embodies a unique blend of academic excellence, cultural richness and a profound sense of community. Founded over 30 years ago, Haut-Lac International Bilingual Day and Boarding School is now home to both 600 day students and a maximum of 30 boarders from around the world.
What To Wear at Your Job Interview
Navigating job interviews can be stressful, but knowing what to wear shouldn't be. Our comprehensive guide covers the essential dress code tips for men and women interviewing at boarding schools. Make your first impression count with style and professionalism.
Navigating the Modern Maze: Emerging Challenges for Boarding Schools
Explore the pressing challenges facing boarding schools, from marketing difficulties and rising insurance costs to facility maintenance and recruitment of competent trustees and teachers. This article delves into these complex issues and proposes innovative strategies to overcome them.